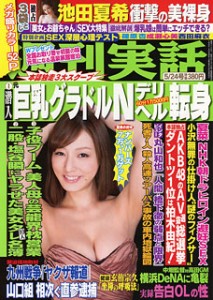 The bust of a Kobe sex club for employing a 13-year-old girl is raising concerns about businesses that falsify identification documents for minors, reports Shukan Jitsuwa (May 24).
Chikara Kamimura, 44, manager of club Proud, a soapland (erotic bathhouse) in the Fukuhara district, was written up for violating the Child Welfare Law. The girl utilized a 21-year-old friend's driver's license during the application process.
More sophisticated means, however, are being utilized by middle and high school girls wanting to gain employment in the fuzoku (commercial sex) biz.
Teruhiko Aoyama, a fuzoku writer, says that special establishments termed gizo-ya (forgery shop) are now specializing in producing fake identification documents. "The number of young girls in the deri heru trade has increased in recent times as a result," says the writer, referring to sex services operating on an out-call basis.
Aoyama adds that the companies will place ads on the Internet clearly indicating that they can assist minors in obtaining work in the fuzoku biz. "While the forgeries are being prepared the companies will also offer advice regarding how to handle the interview, such as remembering the Zodiac sign for the age of impersonation."
How are the fake cards produced?
"The easiest counterfeit documents to make are health cards, as they do not require photographs," says Aoyama, adding that a scanner and an original card are all it takes to churn out a quality fake in a snap. The market price for such a service is 100,000 yen.
Perhaps ironically, if a student identification card is presented on the spot an installment payment plan can be arranged. There are also forgers who will counterfeit driver's licenses but the process is more laborious and the price averages 200,000 yen.
"Either way," Aoyama says, "the girls will be able to pay back the amount in no time."
Shukan Jitsuwa knows of a former fuzoku-jo (working gal) who earned roughly 350,000 yen a month after presenting a faked health insurance card when she was 17 years old.
What can the clubs do to protect themselves?
"Over concerns about being caught, I've become nervous," says a Shinjuku deri heru club operator. "To combat fake health cards, I had requested the candidates bring in school graduation albums. But there are even shops now capable of faking those. It's a tough business." (K.N.)
Source: "Fuzoku-jo tei nenrei ni katan suru gizo-ya," Shukan Jitsuwa (May 24)
Note: Brief extracts from Japanese vernacular media in the public domain that appear here were translated and summarized under the principle of "fair use." Every effort has been made to ensure accuracy of the translations. However, we are not responsible for the veracity of their contents. The activities of individuals described herein should not be construed as "typical" behavior of Japanese people nor reflect the intention to portray the country in a negative manner. Our sole aim is to provide examples of various types of reading matter enjoyed by Japanese.