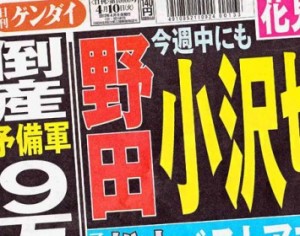 Criminal offenses by members of Japan's constabulary figure frequently in the news. But surely one Kazuya Tsukada deserves high marks for creativity. Until his arrest for indecent exposure, Tsukada, age 37, was attached to the traffic division of the Tokyo Metropolitan Police.
His undoing came on the evening of March 11, when he bared his procreative equipment to a 16-year-old high-school girl at an apartment building in Musashino City.
"Tsukada, while dressed up in a middie blouse resembling a high school girl's uniform, boarded the elevator in the apartment while the teenaged girl was already in the elevator," a police source relates to Nikkan Gendai (Apr. 10). "He pressed a button for a floor lower than the girl's destination, and after disembarking from the elevator turned to her and said 'Mite kudasai!' (Please take a look), and then pulled up his skirt, revealing his genitals.
"The girl, predictably, reacted with shock, and Tsukada fled the scene. He was not wearing any underwear and had on a woman's wig."
Tsukada was apprehended near JR Musashi Sakai station and under questioning confessed to having made similar transgressions in west Tokyo suburbs from October of last year.
"There seem to be two types of cross-dressers," Meiji University lecturer Osamu Seki tells the tabloid. "One is the pattern by which they affect female clothing and behavior to appeal to gay men. The other would be men who wish to flee from reality. Tsukada would be of the latter type. I often hear about men who claim that wearing women's garments help them relax, by relieving them from constricted feelings from wearing a uniform or business suit. Often such males don't have a satisfactory sex life, and they compensate by flashing.
"By dressing up as a female and exposing himself, I would imagine the subject got twice the thrill," said Seki, who added, "By using polite Japanese when saying 'Look at me,' Tsukada shows he is a straightforward person at heart. He would be the type of cop who couldn't bring himself to patronize a sex shop. His walking around in public close to where he committed his crime may indicate he had a latent desire to be apprehended." (K.S.)
Source: "Joso otoko, naze chin dashi ni hashiru no ka," Nikkan Gendai (April 10, page 5)
Note: Brief extracts from Japanese vernacular media in the public domain that appear here were translated and summarized under the principle of "fair use." Every effort has been made to ensure accuracy of the translations. However, we are not responsible for the veracity of their contents. The activities of individuals described herein should not be construed as "typical" behavior of Japanese people nor reflect the intention to portray the country in a negative manner. Our sole aim is to provide examples of various types of reading matter enjoyed by Japanese.