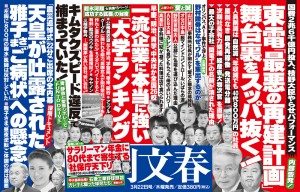 "When I went to see a live performance by one of my favorite bands, I noticed that somebody had left open the stage door used by the performers. And just beyond were the dressing rooms used by the band members! Excitedly I sneaked in, but after I started snapping photographs, two men who seemed to be staff of the establishment walked up behind me.
"'Hey, you're not supposed to be doing that,'" one exclaimed. "'You are not permitted to be in here. If you don't want us to call the cops, will you listen to our proposal?'"
Pick up a copy of the January issue of the women's platonic porn participation publication Muteki Renai S* girl, and as Shukan Bunshun (Mar. 22) demonstrates, the wild whoopee-making just won't quit.
"Terrified, I nodded in agreement," she writes. "One of them pulled off my clothes and forced me onto my hands and knees and made me start to suck him off. The other got behind me and began frantically plunging into me. Stimulated by his huge pork sword, I let out a yelp of pleasure as I came. Then I heard two voices say, almost simultaneously, 'I'm coming too!' and I felt their hot, sticky semen squirting over my skin.
"The guys did not confiscate my photos, and I had a great session of '3P.' I'd like to try another 'live' performance like that one!"
The pseudonymous byline for this installment is given as "Ika-shu bando tengoku," a reference to a popular late-night TV show, "Miyake Yuji no ikasu bando tengoku" (Yuji Miyake's exciting band heaven), known as "Ika-ten" for short, which was broadcast on TBS TV and affiliates in 1989-90.
The title puns ikasu by changing it to ika-shu, with the shu written using the character for "bad smelling." Using the other reading of shu would give ika-kusai (squid-smelling), an expression used to describe the odor (and flavor) of the male procreative organ and its excretions, and thus giving the meaning "band heaven with the scent of characteristic male musk." (W.W.)
Source: "Shukujo no zasshi kara," Shukan Bunshun (Mar. 22, page 99)
Note: Brief extracts from Japanese vernacular media in the public domain that appear here were translated and summarized under the principle of "fair use." Every effort has been made to ensure accuracy of the translations. However, we are not responsible for the veracity of their contents. The activities of individuals described herein should not be construed as "typical" behavior of Japanese people nor reflect the intention to portray the country in a negative manner. Our sole aim is to provide examples of various types of reading matter enjoyed by Japanese.