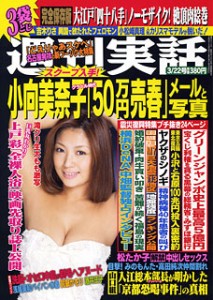 In recent weeks, news reports have looked at the progress made by the Tohoku communities devastated by the Great East Japan Earthquake and tsunami of March 11 last year. Weekly tabloid Shukan Jitsuwa (Mar. 22) likewise conveys to its readership how ladies in the commercial sex industry have courageously resumed their activities.
Luna, an employee at Okusama Shokudo (Married Woman Cafeteria), a chain of out-call sex clubs specializing in housewives, returned to work in May of last year. "I lost both of my parents in the tsunami," says the 42-year-old, who works out of the service's branch located in Ishinomaki, Miyagi Prefecture. "At the time I returned to work, my mother's body was still going through DNA exams. It was not until August that it became official."
After going through such a traumatic experience, Luna returned only through a push from a trusted acquaintance. "I knew I couldn't just sit there," says the employee, whose sensual services, according the establishment's Web site, start at 12,000 yen for 60 minutes. "After I convinced myself to return, many of my patrons further encouraged me. It was really gratifying."
Sena, 26, who works out of the Kenkita outlet of the same chain, actually joined the industry of February this year. "I had a day-time job in Tome City, which is an inland area," she says of the time one year ago. "It was tough to get settled after the earthquake, but during the clean-up time flew by fast."
The Maesawa branch of the deri heru chain Vivace in Oshu City, Iwate Prefecture employs 25-year-old Arisa, whose home in Kesennuma City and car were washed away by the tsunami. She resumed working by the end of March. "It helped me emotionally to know that I had job security," she says. "I plan to save enough money so I can go to school to earn a certificate."
Her colleague, Ai, 26, returned to work in May. "The year passed really fast," says Ai, whose sessions begin with deep kissing and continues onward toward ejaculation. "In fact, it was too fast for me to complete anything. I prefer to not watch footage of those horrible scenes from that day. Rather, I continue thinking positive and moving forward."
Shukan Jitsuwa suggests readers give a hand to these women, as opposed to the usual vice versa. (K.N.)
Source: "Onna ha tsuyoi! Hisaichi wo ikinuku Tohoku fuko fuzoku!" Shukan Jitsuwa (Mar. 22)
Note: Brief extracts from Japanese vernacular media in the public domain that appear here were translated and summarized under the principle of "fair use." Every effort has been made to ensure accuracy of the translations. However, we are not responsible for the veracity of their contents. The activities of individuals described herein should not be construed as "typical" behavior of Japanese people nor reflect the intention to portray the country in a negative manner. Our sole aim is to provide examples of various types of reading matter enjoyed by Japanese.