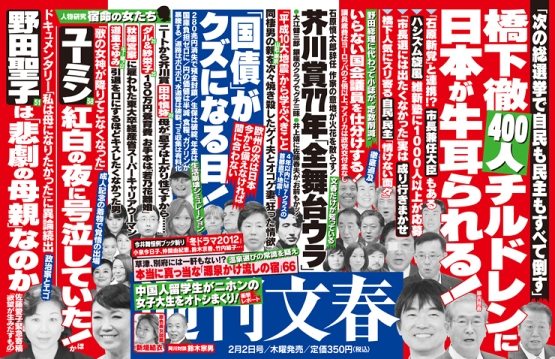 "The new guy who joined our company is really cute. He's got the looks of a model picked by magazine readers, is diligent at learning the job, and is just the type of guy that a studious gal like me wants to take under her wing — so to speak."
Thus begins an alluring amorous adventure from the pages of the November issue of Renai Tengoku (Love Heaven), as introduced on the pages of Shukan Bunshun (Feb. 2).
"A few days ago our staff went out drinking and I got really loaded," she continues. "He chivalrously offered to see me home in a taxi. I thought I'd let him take me as far as the door, but all of a sudden he pulled me inside and began kissing me. It was like what had been a cute young subordinate had suddenly been transformed into a ferocious wolf.
"After he used a finger to confirm that I was aroused, I suddenly felt a hot object gradually going inside me. And the ferocity of his thrusts belied his innocent looks. As I trembled with pleasure he moved me to the bed, for repeated marathon sex sessions that continued until morning.
"The following Monday at the office, some people were saying, in an accusatory tone, 'I wonder if you seduced your subordinate,' but I denied it vociferously. After all, it was not me who did the seducing!"
Bunshun's pseudonymous byline, "Aitsu wa, aitsu wa, mara-ii toshishita no otoko no ko," is coined from The Candies' 1975 pop hit, Toshishita no Otokonoko (Younger Boy), whose lyrics go, "That guy, that guy is a loveable younger boy." Here the kawaii in "kawaii toshishita no otoko no ko" is punned to read mara ii toshishita no otoko no ko, meaning a younger guy with a good co*k.
Source: "Shukujo no zasshi kara," Shukan Bunshun (Feb. 2, page 93)
Note: Brief extracts from Japanese vernacular media in the public domain that appear here were translated and summarized under the principle of "fair use." Every effort has been made to ensure accuracy of the translations. However, we are not responsible for the veracity of their contents. The activities of individuals described herein should not be construed as "typical" behavior of Japanese people nor reflect the intention to portray the country in a negative manner. Our sole aim is to provide examples of various types of reading matter enjoyed by Japanese.