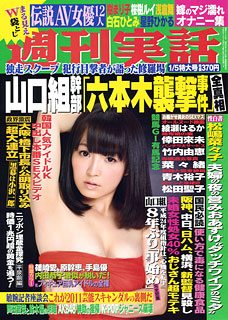 After the body of construction worker Akinori Kuwayama, 21, was discovered on a road in Sakura City, Chiba Prefecture on June 10, Chiba prefectural police believed it to be a simple case of hit and run.
However, reports weekly tabloid Shukan Jitsuwa (Jan. 5), developments from December are pointing to Kuwayama being a victim in a multiple murder case.
According to police, the corpse of Kuwayama was found six kilometers from his home, which is where he is believed to have been killed. Investigators subsequently used evidence found at the scene to determine which car struck him.
The vehicle's owner is Kiyokazu Akimoto, a 42-year-old male under prosecution over a separate incident that resulted in bodily harm to a woman. Investigators announced on December 8 that they had questioned Akimoto over Kuwayama's death. "Kuwayama-san jumped in front of me," he said. "It was unreasonable thinking at the time, but I decided to dump his body in a different location."
The Sankei Shimbun reports that Akimoto allegedly used a different car to transport Kuwayama's body away from the scene of the crime.
Two days before the body was found, Akimoto was in the company of his girlfriend, 25-year-old Shigeko Yuri. She had spoken with her family on the phone but soon after went missing. "We were walking along the road and all of sudden she collapsed and died," Akimoto is quoted as telling officers. "Thinking I would be a suspect, I dumped her body in a forest."
Following that confession, officers on December 6 (as reported in the Sankei Shimbun) searched a wooded area in Sodegaura, Wakaba Ward and found the skeletal corpse of Yuri.
A local journalist tells the tabloid that police think Kuwayama had been punched initially and then repeatedly run over with Akimoto's car while in a lying position. "Looking at the timeline, police guess that he saw Yuri's body in the car and was killed to keep his mouth shut," the journalist says.
Akimoto has a wife and two children and works independently disassembling automobiles. In the local area, he carries a reputation for being a thug, according to Shukan Jitsuwa.
A local resident tells the tabloid that one time a naked women came running out of his office, screaming for help. "Another time, a girl only wearing only a camisole was hanging off his second floor balcony and shouting," says the resident.
"His behavior was rough," the resident continues. "Everyone watched him with a nervous eye, wondering what would happen next."
On December 28, according to the Mainichi Shimbun, Akimoto was indicted for abandoning Kuwayama's corpse. (K.N.)
(千葉)死体遺体容疑の男と交際の女性、暴力を相談
Source: "Renzokusatsujin yogisha no areta onna guse," Shukan Jitsuwa (Jan. 5, page )
Note: Brief extracts from Japanese vernacular media in the public domain that appear here were translated and summarized under the principle of "fair use." Every effort has been made to ensure accuracy of the translations. However, we are not responsible for the veracity of their contents. The activities of individuals described herein should not be construed as "typical" behavior of Japanese people nor reflect the intention to portray the country in a negative manner. Our sole aim is to provide examples of various types of reading matter enjoyed by Japanese.