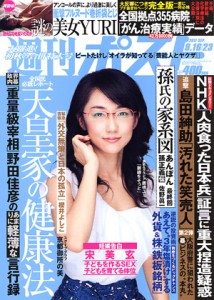 Several decades ago, most Japanese men wore white briefs (a.k.a. Jockey Shorts). But for various they began falling out of favor with women and their sales plummeted, to about half of what they were at the peak.
Shukan Post (Sep. 16-23), however, reports that since last summer white men's briefs appear to have made something of a comeback.
"Perhaps the electric power cutbacks were a factor," says a spokesperson for the Japan subsidiary of B.V.D. "Because beige chinos and other light-colored lightweight slacks were in fashion, dark-colored trunks showed through the material. So demand for white briefs made a comeback again."
Still, out of concern that white briefs had fallen out of favor with women, most men tended to wear boxer shorts.
That said, lovelorn advice columnist Mikako Kikuchi writes that "The times have changed." To wit, while an overwhelming majority of females say they don't particularly like to see men wearing white briefs, the number who now prefer them has increased.
"Women seek 'security,'" says Kikuchi. Since the catastrophic earthquake and tsunami on March 11, they realized that a man's income or job position didn't count for much. Instead, they sought men who had the vitality to survive, even in the wild. And to these women, claims Kikuchi, men wearing white briefs come across as masculine hunks.
"White briefs are easy to become begrimed and spotted, so some guys who wear them are showing confidence in their ability to keep them clean. On the other hand if the guy isn't concerned about them showing stains, it heightens his masculinity, as a wild, uncivilized type.
"When I meet up with guys in white briefs, I really get turned on!" Kikuchi confesses. (K.S.)
Source: "Josei tachi ga totsuzen hen'i!? 'Shiro buriifu' fechi ga fueteru sou na," Shukan Post (Sep. 16-23, page 158)
Note: Brief extracts from Japanese vernacular media in the public domain that appear here were translated and summarized under the principle of "fair use." Every effort has been made to ensure accuracy of the translations. However, we are not responsible for the veracity of their contents. The activities of individuals described herein should not be construed as "typical" behavior of Japanese people nor reflect the intention to portray the country in a negative manner. Our sole aim is to provide examples of various types of reading matter enjoyed by Japanese.