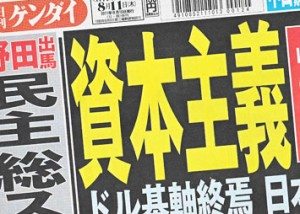 With municipalities all over Japan trying to conserve electric power during the dog days of summer, incidents of public obscenity are on the rise, reports Nikkan Gendai (Aug. 11).
On August 9, a 33-year-old cop assigned to the Toyama prefectural police was apprehended for breaking into a police dormitory facility, allegedly on the hunt to purloin feminine undergarments.
A day earlier, a 49-year-old NHK producer was nabbed for trying to surreptitiously shoot photos up a woman's dress, and a 56-year-old instructor at a primary school in Nara was arrested for groping. On August 7, a 26-year-old member of a university's administrative staff was nicked for fondling a female white collar worker's thigh on a bus. And a 26-year-old civilian employed by the police in Miyazaki Prefecture was arrested for attempting a sneak shot with his camera.
What is it with all these supposedly respectable people, pillars of society who hold down cozy, stable jobs, who suddenly go off the deep end and turn into leering perverts?
A government worker tells the tabloid he thinks it's because of the power-saving campaign now in force.
"The stricter the working environment at government offices, the more efforts are being devoted to reduce power consumption," he explains. "The air conditioner thermostats are arbitrarily set to 28 degrees Celsius no matter how hot it gets. On the one hand, the workers there understand why these measures are necessary, but on the other, they are sweaty and uncomfortable. It's cooler to go somewhere else.
"Because people are so irritable we're also seeing more arguments and quarrels in the workplace. So when these workers stomp out of their offices in a bad mood, and then see so many women strutting around in even skimpier garments than usual, I suppose they just flake out."
It is said that acts of groping and perversion around JR Osaka Station are up this year by 40 percent. Behold, then, what the Fukushima nuclear reactor accident hath wrought. (K.S.)
Source: "Setsuden no natsu, kokukan mo hiito appu,'" Nikkan Gendai (August 1, page 7)
Note: Brief extracts from Japanese vernacular media in the public domain that appear here were translated and summarized under the principle of "fair use." Every effort has been made to ensure accuracy of the translations. However, we are not responsible for the veracity of their contents. The activities of individuals described herein should not be construed as "typical" behavior of Japanese people nor reflect the intention to portray the country in a negative manner. Our sole aim is to provide examples of various types of reading matter enjoyed by Japanese.