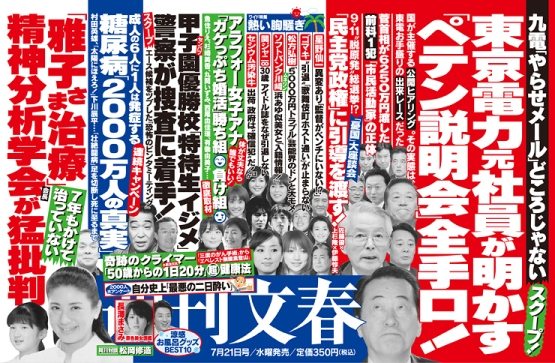 "Ever since my son, who's in the second grade at primary school, began refusing to attend school, I began consulting with teacher T, who's responsible for him. Gradually I began opening up to him, and this led to a 'male-female' relationship, if you get my drift. Of course I realize it was not meant to be, but whenever he paid a call on our house, I became sopping wet down there."
Thus begins another steamy story from the April issue of Ai no Taiken Special Deluxe, as introduced in Shukan Bunshun (July 21).
"I knew that if he stayed at my place too long people would become suspicious," she continues. "So as soon as he was in the door I'd lead him straight to the bedroom and we'd strip to the buff, without speaking so much as a word. Feeling the heat from his young penis as it stiffened in my hand gave me the sensation of being treated like a real woman.
"Normally in public, teacher T always addressed me by my surname, but only when we were having sex, he'd call me 'The mother of *****-kun.' Every time I reminisce over these forbidden acts with my son's advisor, I become inflamed with lust."
Bunshun's playful punster has given this story's pseudonymous byline, "Namae wo nakushita hamegami," which is taken from the Fuji TV drama series broadcast last spring, titled "Namae wo nakushita megami" (the goddess who lost her name), starring fashion model and singer turned actress Anne, daughter of popular actor Ken Watanabe. Adding "ha" in front of megami forms hame, slang for the f-word, and giving it the meaning, "The f**king god who lost its name." (W.W.)
Source: "Shukujo no zasshi kara," Shukan Bunshun (July 21, page 91)
Note: Brief extracts from Japanese vernacular media in the public domain that appear here were translated and summarized under the principle of "fair use." Every effort has been made to ensure accuracy of the translations. However, we are not responsible for the veracity of their contents. The activities of individuals described herein should not be construed as "typical" behavior of Japanese people nor reflect the intention to portray the country in a negative manner. Our sole aim is to provide examples of various types of reading matter enjoyed by Japanese.