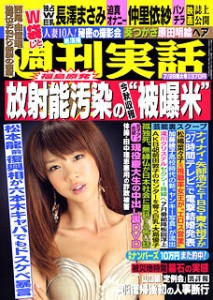 After recently covering the arrest of the science teacher in Tokyo's Kodaira City who drugged and molested 99 females, Shukan Jitsuwa (July 28) reports on a man who can top that figure by exactly one.
On June 4, the "king of nampa," Taira Hashiguchi, 34, was arrested in Fukuoka's Hakata Ward for child prostitution violations. After a 16-year-old girl filed a complaint regarding Higashiguchi, whose nickname is a tribute to his ability to pick up women, officers from Fukuoka's Higashi Police Department took him into custody.
"After having sex at a hotel with the girl, he allegedly hit her over a money problem," says a local beat writer. "He was arrested for battery, and the cops wound up finding provocative and illegal images on his mobile phone and personal computer. They were able to identify one middle-school girl and another eight girls from high school. He took shots of three of them while engaged in actual sex acts. This led to an additional citation."
He boasts to have approached 1,000 women and succeeded with 100.
"He is slim and more or less handsome, but doesn't stand out in a crowd," says a person associated with the investigation. "It is surprising that high school girls fall for him."
The tabloid says that Hashiguchi strategy is to approach girls inside train station concourses and just offer a friendly greeting.
"The fact that he doesn't stand out makes him less intimidating," says another reporter with a local paper. "With a modest stature, he is a slick talker and is good with standard Japanese. He also incorporates impersonations of some comedians. At that time, he's already touching the girl as if he is escorting her. Young guys say it is something they cannot imitate, which is why he is such a legend." (A.T.)
Source: "Joshi chuko gakusei hyakunin to waisetsu koi Fukuoka 'densetsu nampa o' sasoi teguchi," Shukan Jitsuwa (July 28, page 05)
Note: Brief extracts from Japanese vernacular media in the public domain that appear here were translated and summarized under the principle of "fair use." Every effort has been made to ensure accuracy of the translations. However, we are not responsible for the veracity of their contents. The activities of individuals described herein should not be construed as "typical" behavior of Japanese people nor reflect the intention to portray the country in a negative manner. Our sole aim is to provide examples of various types of reading matter enjoyed by Japanese.