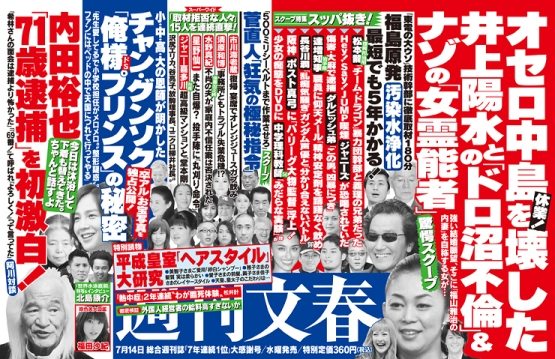 "My husband and I had a big disagreement and I stormed out of the house. I didn't have enough cash to spend the night in a hotel, so I just went to a nearby family restaurant, sat down and ordered a beer. After a while I noticed a good-looking young man at a nearby table was waving at me. It turned out he was the neighborhood parcel deliveryman who'd been bringing stuff to my place even back when I was single and shacked up."
Thus begins the latest steamy installment from the June issue of women's soft porn magazine Ai no Taiken Special Deluxe, as introduced in Shukan Bunshun (July 14).
"I remember, when I changed from my maiden name to my married name, and he'd smiled and said 'Congratulations!' to me," she continues. "Now he looked at me with solicitous concern, and asked, 'What's the matter? You're out pretty late,' and after gulping down several more beers I began pouring out my woes to him.
"Anyway he offered to put me up for the night at his place — since he lived alone — and I decided to accept his invitation. He didn't come on to me, and I didn't come on to him, but well, things sort of began to happen as a matter of course, and the next thing I knew we were embracing and kissing. He began groping me all over, actually a bit roughly, but that really turned me on, and as his young and robust penis plunged deeply into me, I continued thrusting my hips like crazy.
"The feeling was incredible, and by that time, I was already looking forward to the next fight with my husband, so I'd have a pretext for coming to see him again."
This installment's pseudonymous byline takes a perfectly normal everyday Japanese word — takkyu-bin (parcel delivery service) — and turns it into a rather crude English epithet, "F**k you-bin." The context should be obvious.
Source: "Shukujo no zasshi kara," Shukan Bunshun (July 14, page 101)
Note: Brief extracts from Japanese vernacular media in the public domain that appear here were translated and summarized under the principle of "fair use." Every effort has been made to ensure accuracy of the translations. However, we are not responsible for the veracity of their contents. The activities of individuals described herein should not be construed as "typical" behavior of Japanese people nor reflect the intention to portray the country in a negative manner. Our sole aim is to provide examples of various types of reading matter enjoyed by Japanese.