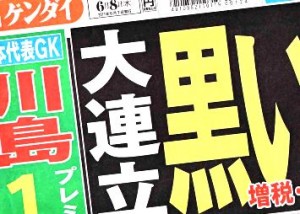 According to a survey by the Japanese Association for Sex Education, about 40 percent of Japan's male university students have yet to experience sex.
It seems the education system is so skewed toward academic learning, people figure they can acquire the necessary knowledge and skills by attending a seminar about anything.
As proof of this, Nikkan Gendai (June 8) reports that an NPO named White Hands, which was organized to promote sexual solace among the physically handicapped, has announced plans to open its doors to all comers, with a program to advance the necessary ins and outs of getting it on.
The retreat is aimed at undergraduate and graduate students. According to the site, "The curriculum seriously aims to direct people toward safe and healthy sex, irregardless of their physical appearance, communication skills, location of residence or opportunities for meeting other people," the site claims. "Taking the knowledge and experience imparted by the course to heart will help dispel problems and anxieties, particularly like those found among college students. It will give them more courage and self confidence."
The two-night, three-day retreat begins with a lecture titled "The Theory of Male-Female Interaction" and then moves on to practice workshops on planning dates. Evenings, random drawings will be used to pair off partners for, uh, hands-on practice. The next morning, they will appear before their peers and orally report on their impressions.
Talk about a Spartan regimen, Nikkan Gendai winks.
The cost for attendance is 150,000 yen, with 5,000 yen discounted for students who are receiving tuition aid. Additional discounts of up to 30,000 yen will be given according to TOEIC score results, and those who bring along friends will also be eligible for group rates.
Some may point out that 150,000 yen is more than enough to cover admission to a high priced soapland (erotic bathhouse), where nearly the same results can be obtained with a lot less effort.
Nevertheless Nikkan Gendai notes that the organizer has been flooded with applications ahead of the July 31 deadline. It adds that another program, for sexually inexperienced working people up to age 35, is offered for 185,500 yen. (K.S.)
Source: "Dotei, shojo no tamae no otona gasshuku' ni moshikomi satto," Nikkan Gendai (June 8, page 7)
Note: Brief extracts from Japanese vernacular media in the public domain that appear here were translated and summarized under the principle of "fair use." Every effort has been made to ensure accuracy of the translations. However, we are not responsible for the veracity of their contents. The activities of individuals described herein should not be construed as "typical" behavior of Japanese people nor reflect the intention to portray the country in a negative manner. Our sole aim is to provide examples of various types of reading matter enjoyed by Japanese.