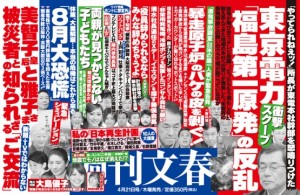 "I wanted to refine myself, so I began taking lessons in French. The teacher was extremely earnest. I wasn't very good at memorizing the textbook drills, so I stayed behind after class for some supplementary lessons."
Thus begins an account of a young woman's international tête-à-tête, sourced from the March issue of Renai Tengoku, as appearing in Shukan Bunshun (Apr. 21).
"At some point we began to feel rapport toward each other," she continues, "but I wasn't sure if it was a student-teacher relationship, or if he was regarding me as a woman."
But while in the course of dispensing his private lessons, the teacher soon made his sentiments known.
"'I seenk you aire special,' he told me. 'Was I not making it clear, ze way — how to say — I feel about you, ma cherie?'
"At that moment, my mind went completely blank (or blanc if you prefer), and seconds later he had swept me up and spread me on top of a desk, where he began kissing and fondling my body.
"I'd heard that foreign males were big, but his mono swelled up to such huge proportions it couldn't be contained in his under shorts. He began thrusting like a piston, and he filled me so completely I was unable to even speak. The only noises audible in the classroom were the gasps of our heavy breathing, as we both came to a simultaneous, shuddering climax.
"Now I often visit him at his place, on a regular basis, for more of the same treatment."
This week's pseudonymous byline is punned from the catch phrase of the NOVA English school chain, which was "Ekimae Ryugaku" (foreign studies in front of the station." Here the gaku (studies) is changed to fuakku (Japanese pronunciation of the F-word)," giving Ekimae ryu-fuakku, which means "going and getting laid in front of the station." (W.W.)
Source: "Shukujo no zasshi kara," Shukan Bunshun (Apr. 21, page 103)
Note: Brief extracts from Japanese vernacular media in the public domain that appear here were translated and summarized under the principle of "fair use." Every effort has been made to ensure accuracy of the translations. However, we are not responsible for the veracity of their contents. The activities of individuals described herein should not be construed as "typical" behavior of Japanese people nor reflect the intention to portray the country in a negative manner. Our sole aim is to provide examples of various types of reading matter enjoyed by Japanese.