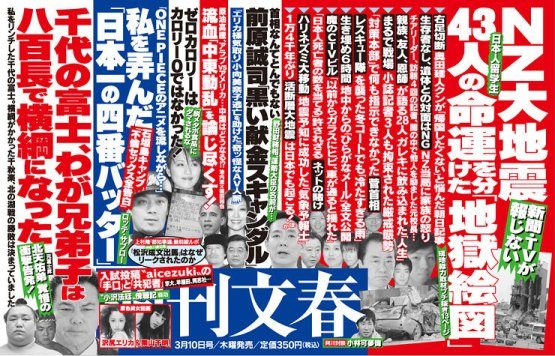 "The other day I went to an SM bar for the first time, and let myself get tied up, upon which I received a sound thrashing with a whip. The experience really turned me on. I had never realized I had this masochistic bent, and I felt a bit scared that I might cross the line into this flaky netherworld. Fortunately I felt a sense that doing it just once was enough."
This week's "From the ladies' magazines column" in Shukan Bunshun (Mar. 10) feature the above account and two more short items from the January issue of women's soft porn magazine Amour.
The second contributor writes, "I use several small, battery-powered massagers as substitutes for a vibrator. In addition to inserting them into both my vagina and anus, I attach them to my nipples as well, while I manipulate a fifth with my hand. It's quite a chore and a bit inconvenient, but it feels so good I can't stop doing it!"
And finally the third anonymous contributor writes, "I think some sex partners are compatible and some are not. When I recall my former boyfriend, we were compatible in so many ways, I just can't get him out of my mind. I think of him several times a day. I really wish I would coincidentally bump into him somewhere. But once that were to happen, once almost certainly wouldn't be enough!"
For the third contributor's byline, Bunshun's editor waxes nostalgic from "Koi no Kisetsu" (season of love), the famous 2 million-selling bossa-nova style single released in 1968 by the vocal group Pinky and the Killers, featuring then 15-year-old Yoko Kon in the lead. The tune leads with the lyrics Wasurerarenai yo (I can't forget about him), which Bunshun tweaks to read wasurerarenai bo. A bo means a pole or stick, used figuratively here to mean penis, and thereby stirring up the meaning "an unforgettable c**k."
Source: "Shukujo no zasshi kara," Shukan Bunshun (Mar. 10, page 103)
Note: Brief extracts from Japanese vernacular media in the public domain that appear here were translated and summarized under the principle of "fair use." Every effort has been made to ensure accuracy of the translations. However, we are not responsible for the veracity of their contents. The activities of individuals described herein should not be construed as "typical" behavior of Japanese people nor reflect the intention to portray the country in a negative manner. Our sole aim is to provide examples of various types of reading matter enjoyed by Japanese.