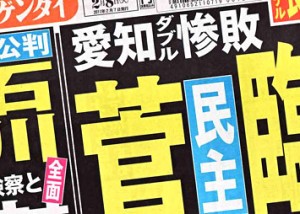 February 14 is right around the corner. But if you're a Japanese male, before you start daydreaming how many luscious tokens of affection you'll be getting from gals, you'd better think again.
Nikkan Gendai (Feb. 8) reports when confectionery maker Ezaki Glico surveyed 400 single women last month, the results were enough to make old St. Valentine turn cartwheels in his coffin.
When asking the respondents to whom they would be bestowing a gift of chocolate this year, in first place with 71.5 percent was "a female friend." This was followed (multiple replies were recorded) by "Father, elder brother or younger brother" with 54.5 percent and "Mother, elder sister or younger sister," with 37.5 percent.
In other words, males not an immediate family member didn't even make it to the top three.
Behind this change in the perception of St. Valentine's day is believed to be the current boom in joshikai, or all-female get-togethers. The term was one of the new buzzwords popularized in 2010.
"When girls are together, they can express their true feelings," a women in her 20s tells the tabloid. "That's a kind of loving relationship. Actually most of what we say to each other is pretty raunchy."
"When married women meet up, it's a real jabberfest to put down their hubbies," says a woman in her 40s. "A lot of it is commiserating over concerns on how we'll grow old together. It's a girl thing, you see."
Hotels and restaurants are now offering more "joshikai" plans to attract business. The days of the gokon (mixed sex matchmaking parties) may be ending, to be replaced by all-female affairs.
Oh gosh, concludes Nikkan Gendai, we males are such contemptible creatures, women can barely cope unless they get together and pour out their disdain for us. (K.S.)
Source: "Barentain dee choco wo okuru aite no ichi-i wa onna tomodachi," Nikkan Gendai (Feb. 8, page 5)
Note: Brief extracts from Japanese vernacular media in the public domain that appear here were translated and summarized under the principle of "fair use." Every effort has been made to ensure accuracy of the translations. However, we are not responsible for the veracity of their contents. The activities of individuals described herein should not be construed as "typical" behavior of Japanese people nor reflect the intention to portray the country in a negative manner. Our sole aim is to provide examples of various types of reading matter enjoyed by Japanese.