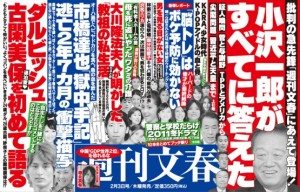 "At the rendezvous that day, instead of my boyfriend, it was his younger brother who showed up, bearing with him a note on which he'd scribbled, 'Something urgent has come up; please have a good time with my brother instead.'
"On the one hand I felt terribly let down, but on the other I decided to take advantage of the situation and have as much fun with him as I could."
Thus begins another ribald tale from the February issue of women's soft porn mag Ai no Taiken Special Deluxe, as introduced in Shukan Bunshun (Feb. 3).
"He asked me, 'Where do you usually go with my elder brother?' so off we went to the usual haunts. He seemed a bit bashful at first, but things started to click, and as he fondled my body, he rubbed his thing against me, and it seemed like it was going to explode any moment.
"'My brother always boasts to me about how big your breasts are,' he murmured to me, and then blurted out, 'He told me that because you have a strong maternal instinct, if I were to ask, you'd let me dip my writing brush.'"
(Editor's note: fude oroshi, to dip one's writing brush, is a wonderful euphemism for a male losing his virginity.)
"He looked like he was about to start crying, and he was so cute I just couldn't refuse him, so I gave him a proper lesson in love right then and there."
For the contributor's pseudonymous byline, Bunshun's playful punster came up with a superlative double-entendre: "Marao Brothers." Mara is the Sanskrit word for penis. While one vowel removed from the Nintendo game character "Mario Brothers," it's also an English transliteration of mara kyodai ("brothers of the penis"), a slang term for two men who have had sex with the same woman. (W.W.)
Source: "Shukujo no zasshi kara," Shukan Bunshun (Feb. 3, page 93)
Note: Brief extracts from Japanese vernacular media in the public domain that appear here were translated and summarized under the principle of "fair use." Every effort has been made to ensure accuracy of the translations. However, we are not responsible for the veracity of their contents. The activities of individuals described herein should not be construed as "typical" behavior of Japanese people nor reflect the intention to portray the country in a negative manner. Our sole aim is to provide examples of various types of reading matter enjoyed by Japanese.