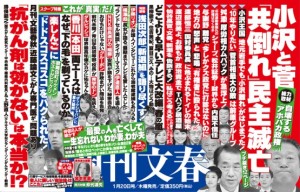 "My boyfriend's unable to wean himself from cheating on me. One day I angrily confronted him over having slept with my friend R, and he blithely replied, 'You've never once cheated on me? Why don't you try it then?' I couldn't believe he'd say something like that!"
Thus begins another raunchy tale from women's soft porn mag Ai no Taiken Special Deluxe (Dec.), as introduced in Shukan Bunshun (Jan. 20).
"So at R's invitation," she continues, "the two of us went out drinking and met up with a pair of guys. She and her guy walked off to somewhere, leaving me alone with a fellow I'll call K.
Anyway, we moseyed over to a hotel. I was a bit on the nervous side, but K really know what to do, and he was completely different from my boyfriend. I melted under an assault from his tongue. It was amazingly good for a one-night stand. After a session of sixty-nine he thrust inside me, and I orgasmed a second time.
"My very first attempt at a pickup was a huge success. And now whenever I learn my guy's been cheating on me, I head into town on by myself to work off some stress!"
For the contributor's pseudonymous byline this time, Bunshun's writer puts a new twist on a familiar English expression: "No penis, no gain." (W.W.)
Source: "Shukujo no zasshi kara," Shukan Bunshun (Jan. 20, page 97)
Note: Brief extracts from Japanese vernacular media in the public domain that appear here were translated and summarized under the principle of "fair use." Every effort has been made to ensure accuracy of the translations. However, we are not responsible for the veracity of their contents. The activities of individuals described herein should not be construed as "typical" behavior of Japanese people nor reflect the intention to portray the country in a negative manner. Our sole aim is to provide examples of various types of reading matter enjoyed by Japanese.