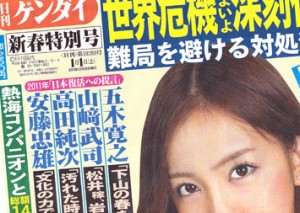 This may be the Year of the Rabbit, but Nikkan Gendai (Jan. 1) predicts that Japanese women will not be satisfied nibbling on mere carrots.
The evening tabloid says that the rise of nikushokukei joshi (肉食系女子), or carnivorous women, will continue to pick up steam in 2011. Fuzoku writer Yukio Murakami explains that women are increasingly viewing themselves differently.
"Women believe that they too should be able to freely enjoy sex just as men do," the sex scribe says. "Even with steady boyfriends they'll still approach men at train stations as the evening's last train approaches. The rationale behind such behavior is rooted in simple sexual desire that occurs right before their menstrual period or the thought that it's better to stay at a love hotel than going home.
"Most of these ladies, aged in their late 20s to late 30s, do not ask for financial compensation," Murakami continues. "They are simply looking for excitement."
A similar type of woman can be spotted in the youth Mecca of Shibuya, specifically the Center-gai area.
"Girls with flexible jobs roam around during the day and give signs, such as a wink, to handsome guys," comments a female writer. "They approach boys of their liking by saying, 'I don't need money so let's go straight to a love hotel.' Unlike a prostitute, it's not for quick cash so they won't pick up just any guy."
Of course, the question is: Why is this unfolding now?
"While they say it is due to sexual liberation, that is nominal," asserts Murakami. "The reality is that they see the unease with North Korea and China's aggression and find it worrisome. Their maternal instinct is making them aggressive in wanting to leave behind more offspring."
The article surmises that this is similar to the samurai eras of shoguns Oda Nobunaga and Toyotomi Hideyoshi, when similar scenes took place just as their regimes were about to crumble.
2011 could be a dream for womanizers, drools Nikkan Gendai, but the challenge is for you, dear reader, to up your game if you want to be a player. (K.N.)
Source: "Sekkusu sayuku ga machi wo haikai suru," Nikkan Gendai (Jan. 1, page 5)
Note: Brief extracts from Japanese vernacular media in the public domain that appear here were translated and summarized under the principle of "fair use." Every effort has been made to ensure accuracy of the translations. However, we are not responsible for the veracity of their contents. The activities of individuals described herein should not be construed as "typical" behavior of Japanese people nor reflect the intention to portray the country in a negative manner. Our sole aim is to provide examples of various types of reading matter enjoyed by Japanese.