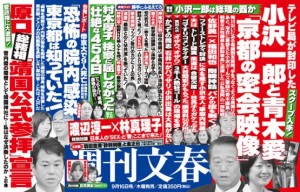 "After I got my first personal computer I was having fun surfing the net, and one day I came across a home page titled 'Take My Male Virginity…please.' I was fascinated by the poor fellow's hard-up situation and decided to meet up with the page's webmaster, a Mr. T."
Thus begins an episode from the October issue of women's soft porn mag Ai no Taiken Special Deluxe, as introduced on a regularly featured page of Shukan Bunshun (Sep. 16).
Taking pity on T's predicament, she humanely decided to assist in his defloration.
"I made arrangements to meet him at a café," she writes. "But to my consternation, he brought along several of his acquaintances. They were all cherry boys — five of them in total.
"'Please help us out, not just me but all of us,' he begged me. So we booked a party room in a nearby love hotel for all five of us.
"I took on T first," she says. "We kissed and he began rubbing my breasts. Then he went down on me, and I was starting to feel pretty good. Then I shifted so I straddled him and told him to start pumping away.
"After I made him come, I said to his mates, 'Lining up is a hassle, come on all of you!' and promptly pigged out on multiple penile penetrations.
"You might say all five of them took home their graduation diplomas without incident!"
Bunshun's pun-punting editor tacked on the byline, "Mado no soto de wa chinko uri, koe wo marashitte chinko uri," lyrics gleaned from the 1973 Yosui Inoue hit song "Kori no Sekai" (world of ice). In the original the lyrics go, "Mado no soto de wa ringo uri, koe wo karashite ringo uri" (selling apples outside the window, selling apples until one's voice is hoarse). By changing ringo to chinko, it becomes, "Selling penises outside the window, selling penises until the voice is clogged with mara (cock)." (W.W.)
Source: "Shukujo no zasshi kara," Shukan Bunshun (Sep. 16, page 105)
Note: Brief extracts from Japanese vernacular media in the public domain that appear here were translated and summarized under the principle of "fair use." Every effort has been made to ensure accuracy of the translations. However, we are not responsible for the veracity of their contents. The activities of individuals described herein should not be construed as "typical" behavior of Japanese people nor reflect the intention to portray the country in a negative manner. Our sole aim is to provide examples of various types of reading matter enjoyed by Japanese.