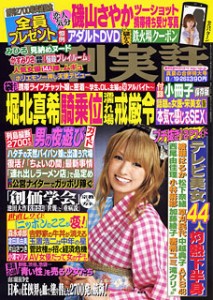 A young girl plying the trade known as enjo kosai, or compensated dating, is hardly new. Yet, observes Shukan Jitsuwa (Aug. 19), the glut of school gals on summer break and the harsh economy are combining to make present conditions in Tokyo anything but a seller's market.
The tabloid cites the entertainment areas of Shinjuku, Ikebukuro and Shibuya as common hot spots. Many young females migrate from the countryside and must offer sharp discounts, or gekiyasu enko, as slashed bonuses for salaried workers have become the norm.
Seated on a street corner is a 19-year-old from Niigata Prefecture. "I came to Tokyo to earn money for one week," says the brown-haired girl. "I have only have a few hundred yen. Tonight I can't find anyone. If someone will pay 5,000 yen and the hotel fee that's acceptable…"
In Shibuya, the writer finds a deeply tanned female in a miniskirt. She does not offer sex, only hand-jobs, and handles five customers a day. Referred to as tekoki enko, the service costs 3,000 yen a pull.
Oftentimes, however, the girls will abstain from independent contracting and utilize agents, who entice prospective talent with rates of 50,000-yen per day. On websites or through ads in evening sports newspapers, the pimps will collect clients interested in Lolita-like lasses and arrange a deri heru, or call-girl, setup at a love hotel.
"A high school girl and can get 50,000 yen a day," explains a writer for a national daily. "For a middle school girl it's around 70,000 yen. But recently elementary school girls have been able to fetch 120,000 yen for one shot."
The money is just one thing, says the writer. The girls also find the arrangement safer than working solo as the chances for trouble from an uncooperative client are reduced.
"If the police crack down on one organized service," continues the source, "there will always be another ready to serve. There are so many students out on summer vacation."
Cafes described as deai-kei establishments oftentimes will specialize in matching hookers with Johns. Girls enter free and can enjoy surfing the Web or reading manga comics. Guys observe their activities through a one-way mirror and then choose a girl who meets their fancy. The couple will then move to another booth and talk for 10 minutes. If an agreement is brokered, the guy will pay a fee to the cafe and transportation costs to the girl before heading out on a date.
Once summer vacation starts, Shukan Jitsuwa notes, the cafes are at full capacity.
"Most deai cafes are just for prostitution purposes," explains fuzoku writer Yukio Murakami. "Probably 70 to 80 percent of the girls will allow sex if the money is right."
The magazine then moves on to a street filled with kyabakura clubs, which offer hostess services, to examine the swindling of university students.
Waseda, Rikkyo, Meiji and Gakushuin universities are usually well represented but nowadays Tsuda College and Aoyama Gakuin University, known as "princess" schools since girls from wealthy families often attend, are entering the picture.
The con takes place at the recruitment stage. Students will be offered a generic kyabakura role only to later find out that the establishment is a sekukyaba,, where the kissing and fondling of exposed breasts is offered, or ichakyaba, in which touching takes place through worn garments.
"Even when they find out that touching and kissing are allowed they won't quit because they are getting paid," says a kyabakura employee. "It's easy to trick them because they don't know how the night world works."
Runaways, it seems, have it no better. Wayward females will post requests for lodging on online sites. "In the postings, they'll use the word kami (god) to describe the potential suitor but really he is an okami (wolf)," explains an editor at a fuzoku rag. "Since no one will offer free lodging, they are going to want sex. And since they are runaways, they have no means of recourse if there is a problem. I know of one girl that wound up shooting up on dope and got raped."
Speaking of drugs, the use of shabu is escalating at an alarming rate, reports the magazine. Inexperienced girls will try it for the first time at a club, perhaps in Shibuya. "The girls will be told by a seller that they can get high on MDMA for 5,000 yen," says a person in the club industry. "MDMA is a drug that enhances sexual pleasure, and one hit could lead to repeated use."
Law enforcement authorities tell the tabloid that summer can be the start of a dangerous descent. "They might think that they are doing enko 'only for summer vacation,'" says a source related to the police. "But that is just the beginning. There could be stress so they might go to a host club. They might also start up with drugs, pile up debts, get mentally sick or suffer a physical ailment. Life can get bizarre. It's dangerous earning money in the sex trade, and it's best to be on guard." (A.T.)
Source: "Nettaiya ni ugomeku aoise wo uru shojotachi michaku 24ji," Shukan Jitsuwa (Aug. 19, pages 52-54)
Note: Brief extracts from Japanese vernacular media in the public domain that appear here were translated and summarized under the principle of "fair use." Every effort has been made to ensure accuracy of the translations. However, we are not responsible for the veracity of their contents. The activities of individuals described herein should not be construed as "typical" behavior of Japanese people nor reflect the intention to portray the country in a negative manner. Our sole aim is to provide examples of various types of reading matter enjoyed by Japanese.