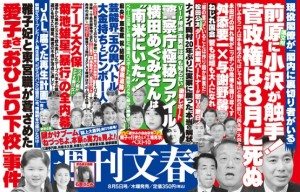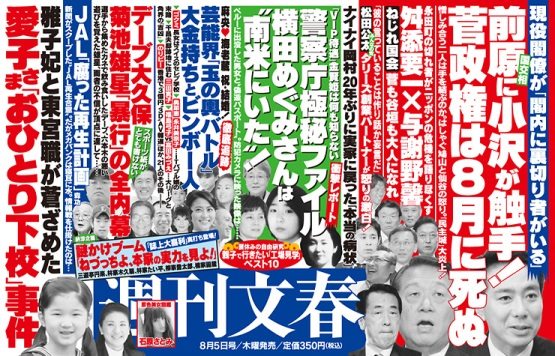 "While on the way home from shopping, I was accosted by a boy in his teens. I was already in my 30s and a housewife, so I thought he was just kidding, but his voice had a desperate ring to it."
Thus begins another exciting amateur submission from lady's soft porn mag Ai no Taiken Special Deluxe (Aug.), as introduced on the pages of Shukan Bunshun (Aug. 5)
"Me being naïve and inexperienced, I'd always let men take advantage of my motherly instincts, so somehow I let this kid talk me into going to a love hotel with him.
"He was very awkward and inexperienced, but I couldn't miss seeing that his trousers were bulging like a pup tent, and when he stepped out of them I saw he was hung like a horse — bigger than anything I'd ever encountered! The two of us proved a perfect fit, and as our hips intertwined, we climaxed again and again.
"After that, we arranged for a clandestine meeting once a week, but I kept thinking there was something really familiar about the boy that I couldn't quite put my finger on.
"After meeting him for two weeks, I finally found out why: he was the son of the man who took my virginity. But you know — when it's all said and done, I suppose having a boy overflowing with spunk is the best way to go."
The byline assigned by Bunshun's in-house punster is "Kaeru no ko wakan-eru," taken from the familiar saying, "Like father, like son" (Kaeru no ko wa kaeru), but tweaked to mean "being possessed by (kaneru) both father and son for wakan (fornication)." (W.W.)
Source: "Shukujo no zasshi kara," Shukan Bunshun (Aug. 5, page 101)
Note: Brief extracts from Japanese vernacular media in the public domain that appear here were translated and summarized under the principle of "fair use." Every effort has been made to ensure accuracy of the translations. However, we are not responsible for the veracity of their contents. The activities of individuals described herein should not be construed as "typical" behavior of Japanese people nor reflect the intention to portray the country in a negative manner. Our sole aim is to provide examples of various types of reading matter enjoyed by Japanese.