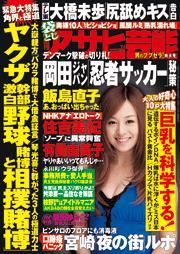 While most media outlets have chosen to focus on the economic and health aspects of the ongoing spread of foot-and-mouth disease in Miyazaki Prefecture, weekly tabloid Shukan Asahi Geino (July 1) investigates how the outbreak has impacted the businesses most dear to its readership — namely, shops specializing in adult entertainment.
On May 18, Miyazaki Prefecture Gov. Hideo Higashikokubaru declared a prefecture-wide state of emergency. Since then, those visiting from outlying areas began canceling reservations in earnest.
The owner of Japanese restaurant Igokochiya Anbai, located in Miyazaki City's entertainment district known as Nishitachi, tells the tabloid that sales have fallen to half of what they were a year ago. "In the beginning, the cancellations were limited to certain areas," the owner explains, "but after the state of emergency was declared the number rose rapidly. We are now cutting part-timers and reducing advertising and supply purchases."
The magazine reports that more than 200,000 heads of cattle have been slaughtered, and the costs associated with the outbreak are estimated to total 60 billion yen.
The female manager of an izakaya says that in her four decades in business she has not seen anything like this since the "oil shock" crisis. "We never had a day without customers," she explains. "However, that has already happened twice (during the present situation). Most of our guests are involved with agriculture. They are coming from outside areas on business trips; many of them have now cancelled. To save on utility costs, we close down at 1 a.m. instead of 4 a.m."
The Nishitachi area hosts roughly 1,500 eateries and fuzoku (sex-related) shops. Those who have been hit hardest by the disease's spread are businesses directly involved in the meat industry and clubs and shops frequently patronized by public officials, who are keeping a low profile and retaining from going out on the town.
The owner of Sake no Asahiya, a liquor store serving its local neighborhood, says, "Our valued customers are not placing orders. I heard about one snack (small hostess club) that went four days straight without a single customer."
Asagei managed to find one establishment that was doing a brisk business — a yakiniku restaurant serving local beef. "The number of people who want to support Miyazaki beef is increasing," says the managing owner of the restaurant. "So far, no effect can be seen. I am more concerned about the anticipated decline in production of Miazaki beef."
But such optimism seems rare. A fuzoku navigation guide shop staff member has seen a huge drop in clientèle. "We typically get many parties organized by local fire departments and volunteer firefighters," the employee says. "But many of them are involved in the meatpacking business. Clubs are asking hostesses to go home early, and I see girls who are not able to keep up with rents and phone bills."
Further complicating matters is a revised ordinance, which began on April 1, that prohibits street solicitation of customers. "So this is like getting punched twice," explains a soapland employee. "A girl gets one or two customers a day most. Most of those in the meatpacking businesses are staying home. One guy came but I could see that he was reluctant."
A pink salon has started spraying its floors with an anti-germ agent on an independent basis. "Shops around here have a low sense of urgency," says an employee of the shop. "With people passing through, a lack of thinking could be a factor contributing to the spread of the disease."
The manager at escort agency Tiara Miyazaki explains that a drop in golfers has cut the number of inquires at the club in half. "This situation is something we've never experienced since we opened a decade ago," the manager says. "It has even impacted traffic regulations on the routes we use for transporting girls. For us, we just have to focus on getting more repeaters."
Source: "Miyazakishi yorunogai wo chokugeku," Shukan Asahi Geino (July 1, pages 190-192)
Note: Brief extracts from Japanese vernacular media in the public domain that appear here were translated and summarized under the principle of "fair use." Every effort has been made to ensure accuracy of the translations. However, we are not responsible for the veracity of their contents. The activities of individuals described herein should not be construed as "typical" behavior of Japanese people nor reflect the intention to portray the country in a negative manner. Our sole aim is to provide examples of various types of reading matter enjoyed by Japanese.