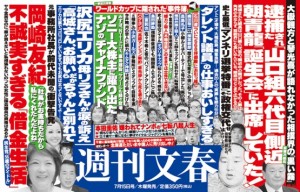 "My close friend 'R' and I managed to both gain admittance to our first choice of universities," writes the anonymous contributor to the April issue of Ai no Taiken Special Deluxe, as introduced in Shukan Bunshun (July 15). "Soon after classes began R made friends with a guy, and he introduced me to his friend, T. The four of us would go out on dates together."
As end of term exam time approached, the four converged on R's place for a late-night cramming session.
"The time came to sleep, but as soon as the lights went out we heard R moaning as her boyfriend jumped on her bones," the writer relates. "Just hearing that made me horny enough, but then I felt T's hand on my butt.
"'Hey, we shouldn't be left out of the fun,' he whispered to me. 'What do you say we do it too?'
"I was already sopping wet, and after he fingered me I let him do me from behind.
"The next morning I felt really awkward, but in the end, I guess you could say we became closer friends."
Bunshun's pseudonymous byline this time is "Bunbu ryobo," punned from the classic four-character idiom "Bunbu ryodo," used to describe a person who is a master of both literary and military arts, i.e., a soldier and a scholar. The expression is given a sexy tweak by changing ryodo (both ways) to ryobo, to mean that "both sticks" (penises) were utilized. (W.W.)
Source: "Shukujo no zasshi kara," Shukan Bunshun (July 13, page 103)
Note: Brief extracts from Japanese vernacular media in the public domain that appear here were translated and summarized under the principle of "fair use." Every effort has been made to ensure accuracy of the translations. However, we are not responsible for the veracity of their contents. The activities of individuals described herein should not be construed as "typical" behavior of Japanese people nor reflect the intention to portray the country in a negative manner. Our sole aim is to provide examples of various types of reading matter enjoyed by Japanese.