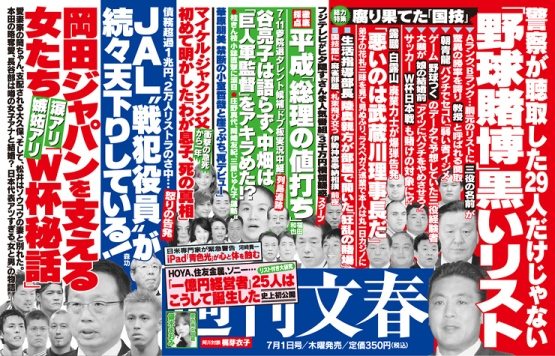 "I've been making it with this young guy in my office. He's 21 years younger than me, and I'm consumed by desire."
So begins a lurid tale from the June issue of woman's soft porn magazine Amour, as presented in Shukan Bunshun (July 1).
"Naturally the best way to do it is a hard romp atop a bed, but he's good for almost anyplace, at any time. So I look for ways to sneak in some fun even while he's on the job. While he was typing at his computer keyboard, there were people just outside his door, so I crawled under his desk on my knees and gave him a nice suck.
"In a few moments he murmured to me, 'Ahhh, it feels good…You're getting hot too, aren't you?' and I slipped off my clothes and he took me from behind. He's always surprised at how aroused I am.
"Just not knowing if somebody might walk in is enough to make me get wetter. I love to push his face into my sopping muff, and say to him, 'Isn't my love juice tasty?'
"It's pretty clear that he really loves lapping it up, and it doesn't get any better than that.
"Doing it with a younger guy is great!"
The author's pseudonym is given as "Wakamono wa naze sannen de kasha de hameru no ka?" a pun on the title of Shigeyuki Jo's 2006 bestselling work of nonfiction, "Why do young people quit after three years? The seniority system that is wresting away Japan's future." But the yameru in the original title is changed to kaisha de hameru, changing the meaning to "Why do young people get (sexually) ensnared after three years in the company?" (M.S.)
Source: "Shukujo no zasshi kara," Shukan Bunshun (July 1, page 99)
Note: Brief extracts from Japanese vernacular media in the public domain that appear here were translated and summarized under the principle of "fair use." Every effort has been made to ensure accuracy of the translations. However, we are not responsible for the veracity of their contents. The activities of individuals described herein should not be construed as "typical" behavior of Japanese people nor reflect the intention to portray the country in a negative manner. Our sole aim is to provide examples of various types of reading matter enjoyed by Japanese.