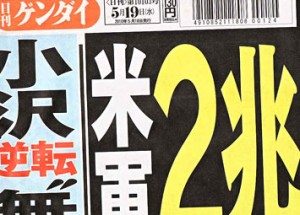 From June 18, a revised law controlling moneylenders, which has been applied incrementally up to now, goes into full force. A salient feature of the law, reports Nikkan Gendai (May 19), will be a limit on the loan amount to less than one-third of the borrower's annual income. At the same time, nearly all consumer loan companies are ceasing to extend loans to housewives.
This is no small matter. According to the national census of 2005, Japan had 16.4 million full-time housewives, of whom an estimated 4.75 million, or 29 percent, had taken out consumer loans.
"A majority of that number have already lost their sources of credit," says loan consultant Mikio Kobayashi. "It's believed that 38 percent of the housewives who take out loans conceal it from their husbands. As a result, women desperate for money have resorted to underground moneylenders, who charge usurious rates, and many wind up working flat out just to keep up the interest payments."
According to Kobayashi, a system called "soft yamikin" refrains from forms of intimidation when collecting, such as sending out thugs who threaten to break the knees of a borrower in arrears. Instead, the loan sharks bide their time.
"The technique now is for loan sharks to tell a woman, 'Use your body to pay off the interest,'" says "pink" journalist Yukio Murakami. "Some of these women loiter around pachinko shops or horse tracks trolling for Johns. Others do it via encounter sites on the web. The going rate for sex is around 10,000 yen, but the remuneration for pickups at pachinko parlors has plummeted, to 3,000 to 5,000 yen.
"Another thing the woman do is called 'rotary prostitution,' where a housewife gets together a stable of six or seven Johns and meets each one for sex once a week on a rotational schedule. They usually find customers on the web by promoting their services at 'a flat 10,000 yen.' Being straightforward about the price seems to do the trick.
"It appears lots of women in Tokyo's plebian districts, such as Adachi and Katsushika wards, have fallen prey to loan sharks," Murakami adds. (K.S.)
Source: "Kaisei kashikingyo-ho de shufu baishu wa sara ni hisan ni naru," Nikkan Gendai (May 19, page 5)
Note: Brief extracts from Japanese vernacular media in the public domain that appear here were translated and summarized under the principle of "fair use." Every effort has been made to ensure accuracy of the translations. However, we are not responsible for the veracity of their contents. The activities of individuals described herein should not be construed as "typical" behavior of Japanese people nor reflect the intention to portray the country in a negative manner. Our sole aim is to provide examples of various types of reading matter enjoyed by Japanese.