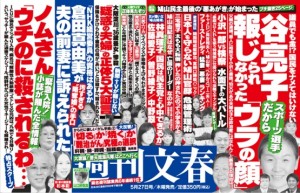 "One day I spotted my neighbor's husband walking on the street together with an unfamiliar woman. My curiosity piqued, I decided to play amateur detective and followed them," writes the pseudonymous contributor to the June issue of the woman's soft porn magazine Ai no Taiken Special Deluxe, as introduced in Shukan Bunshun (May 27).
"I managed to snap a picture of them entering a love hotel," she continues. "Then one day not long afterwards when I knew the wife had gone out, I went over and rang the doorbell. "'What do you have to say for yourself?' I said, confronting him with the evil evidence — like a master sleuth exposing a murderer."
Unfortunately, the husband refused to break down and confess. Instead, to the woman's astonishment he exclaimed, "Then I should make you my partner in crime!" and audaciously assaulted his accuser.
"Me bowled me over onto his sofa and began persistently licking me from head to toe," she relates. "In spite of myself I began to enjoy it. My own husband had been practically ignoring me, and his penis felt like a hot poker being thrust inside me.
"Since then, I've been drawn into a extramarital maelstrom!" she blurts.
Bunshun's page editor, rather than applying a headline, prefers to present each piece with a playfully punned pseudonymous byline. This week's is "Ero-cles Poirot," an erotic tweak to the name of Agatha Christie's master sleuth, Hercules Poirot. (M.S.)
Source: "Shukujo no zasshi kara," Shukan Bunshun (May 27, page 109)
Note: Brief extracts from Japanese vernacular media in the public domain that appear here were translated and summarized under the principle of "fair use." Every effort has been made to ensure accuracy of the translations. However, we are not responsible for the veracity of their contents. The activities of individuals described herein should not be construed as "typical" behavior of Japanese people nor reflect the intention to portray the country in a negative manner. Our sole aim is to provide examples of various types of reading matter enjoyed by Japanese.