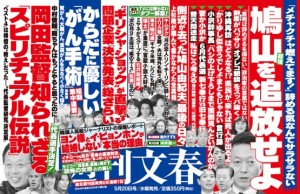 "It was my third year after meeting this guy at college. We were both working as assistants to a professor in the graduate school, and our busy routine left us with no time to date each other."
Thus begins another torrid tale from the April edition of Ai no Taiken Special Deluxe, as introduced in Shukan Bunshun (May 20).
"But the other day I was feeling drained," the writer continues. "It was a Sunday and there was practically no one else on campus, and we were alone together in the storage room.
"He was usually pretty passive toward me, but that day he grabbed me and planted a deep kiss on my mouth, and the pleasant thought crossed my mind that we had let our passions build up to the breaking point.
"I disregarded the pain that I knew would follow by letting him penetrate me. He pulled my left leg upwards and plunged into me from a standing position. Then he turned me around and as we teetered on the verge of a simultaneous climax, we suddenly heard our professor exclaim, 'Hey, what are you two doing in there!!??'
"We had to tell him a fib, but I'm sure he'd caught on. How do I know? Because after that, he never asked us to come in on Sundays again."
The contributor's pseudonymous byline is punned from Yoko Ogawa's bestselling 2003 novel and spin-off film, "Hakase no ai shita sushiki" (the math formula beloved by the PhD), about a mathematician whose memory is shortened to just 80 minutes due to a traffic mishap. Instead of "Hakase," the first word in the title becomes F**K-ase, literally, the sweat produced while f**king. (M.S.)
Source: "Shukujo no zasshi kara," Shukan Bunshun (May 20, page 105
Note: Brief extracts from Japanese vernacular media in the public domain that appear here were translated and summarized under the principle of "fair use." Every effort has been made to ensure accuracy of the translations. However, we are not responsible for the veracity of their contents. The activities of individuals described herein should not be construed as "typical" behavior of Japanese people nor reflect the intention to portray the country in a negative manner. Our sole aim is to provide examples of various types of reading matter enjoyed by Japanese.