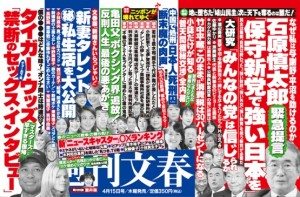 "On our first date, young Mr. S drove me to the seaside, but nothing happened between us."
So begins an excerpt from the April issue of the women's soft porn mag Ai no Taiken Special Deluxe, as introduced in Shukan Bunshun (Apr. 15).
"Not being sure what his behavior implied, I asked a friend, who told me, 'Well, isn't that normal after all?'"
Apparently different people have different notions of normality.
"Actually for me," she continues, "most dates usually end with the guy coming on to me or his getting drunk, and that's the last time I ever see him. But Mr. S seemed to be a cut out of the ordinary.
"We finally had sex at his place, about three months after we first met. It was the first time in my life anything like this every happened to me — and it was completely different from any sex I'd had before. He kissed me deeply and stroked my hair tenderly, like the way my parents put me to bed when I was a small child.
"When his lips brushed against my breasts and neck, I was all aflame down there. And when he entered me, I understood for the first time what they mean when they say, 'to become as one.'
"It's enough to bring me to tears," she exclaims. "And he always kisses me deeply when it's over."
For the pseudonymous byline, the song title "Anata ni aite honto ni yokatta" (I'm really glad I met you) by Korean vocalist Ekin Cheng, is punned to read "Anata ni aide honto ni yoga-tta," which can be tweaked to mean, "To make you moan was really yoga." (M.S.)
Source: "Shukujo no zasshi kara," Shukan Bunshun (Apr. 15, page 107)
Note: Brief extracts from Japanese vernacular media in the public domain that appear here were translated and summarized under the principle of "fair use." Every effort has been made to ensure accuracy of the translations. However, we are not responsible for the veracity of their contents. The activities of individuals described herein should not be construed as "typical" behavior of Japanese people nor reflect the intention to portray the country in a negative manner. Our sole aim is to provide examples of various types of reading matter enjoyed by Japanese.