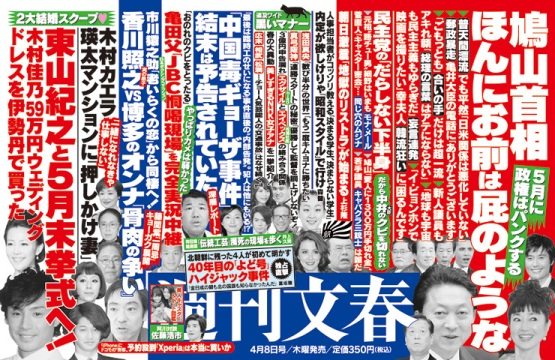 "After my coworker Mr. Y had already announced his marriage engagement, he began coming on to me, and we had an affair," writes the anonymous contributor to the April edition of soft porn women's magazine Ai no Taiken Special Deluxe, as introduced in Shukan Bunshun (April 8).
"He had no intention of breaking off his engagement, so basically I became his 'sex friend.' He was good at it. I suppose he was looking for a way to end his bachelorhood with a bang — although I didn't think we would wind up doing it right up to the time of his wedding.
"I was at the wedding reception along with our other colleagues, and he suddenly shoved me into a vacant stall in the men's rest room and began pulling down my pantyhose and underwear. The next thing I knew he was in me, and each thrust was producing a squishing sound. I think I may have moaned too.
"While we were in right the middle of things, we heard male voices outside the stall. 'That's my father in law to be,' Y whispered to me, all the while pumping away and groping my breasts, until we both reached orgasm.
"We rearranged our clothing and sneaked back into the reception hall. Then affecting a completely deadpan look, he took his bride's arm and marched her to the altar."
The story's pseudonymous byline is sourced from the 1997 hit theme song from the Fuji TV romantic drama "Virgin Road," in which Okinawan vocalist Namie Amuro croons, "Can you celebrate?
 Can you kiss me tonight? 
We will love long long time…" Bunshun's punster has tweaked the song's name to read, "Can you celeb-rape?"
Source: "Shukujo no zasshi kara," Shukan Bunshun (Apr. 8, page 105)
Note: Brief extracts from Japanese vernacular media in the public domain that appear here were translated and summarized under the principle of "fair use." Every effort has been made to ensure accuracy of the translations. However, we are not responsible for the veracity of their contents. The activities of individuals described herein should not be construed as "typical" behavior of Japanese people nor reflect the intention to portray the country in a negative manner. Our sole aim is to provide examples of various types of reading matter enjoyed by Japanese.