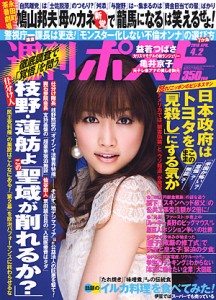 Men, it seems, are incapable of learning, especially when it comes to controlling their extra-marital affairs. In light of the revelations that a senior superintendent of Tokyo's Metropolitan Police department was demoted this month for engaging in adulterous activities, Shukan Post (Apr. 2) reports that the real failure was in proper risque management.
Yasuo Nishizawa, 55, headed the MPD's first criminal investigation division, which often deals with murder and high-degree theft. In spite of being on a "non-career" path, he had previously assumed such other lofty positions as the head of Seijo Police Department, located in Tokyo's Setagaya Ward, and the section for fingerprinting.
Yet it all came apart following news of a six-year extra-marital relationship with a former female detective. Nishizawa broke it off with the detective (referred to simply as "A-san") at the end of last year. That's when the trouble began. She then went over to the dormitory where he stayed, as he lived away from his wife and two daughters, all of whom reside in Tokyo's Nerima Ward, and began causing a stir.
"She would come to the dormitory all the time and shout, 'Where is he? I know he is there,'" says a MPD staffer with knowledge of the situation. "His subordinates were there to accommodate her visits. Then one day she sneaked into his unit and attempted suicide by overdosing on sleeping pills."
One of those subordinates discovered her so it wound up as a non-issue, but whispers started circulating.
Things escalated substantially when she exposed the affair to tabloid Shukan Bunshun (Mar. 25), which resulted in his termination and reassignment to the police affairs department.

Shukan Post, however, finds such extreme behavior to not be unusual. In February of last year, a woman working for a museum in Kanagawa Prefecture, who had been in a seven-year relationship with a married man, stabbed her lover when she found out that she could not marry him. Two years before that, a woman was arrested for making 6,400 calls to the wife of a man she was seeing. She was subsequently arrested.
"Things get scary when the affair ends," explains Piroko Sakuragi, a columnist who often writes on themes of love and sex. "This is especially so when women are with married men who have kids. They react with anger and hatred, which leads to scenarios in which they take action to chase him down and destroy his career or family."
Sakuragi says that from the outset women are usually able to convey the idea that they are willing to accept a man's married status. "However, as time passes, the feeling of wanting to own the man magnifies," she says. "Thus, there is a struggle between reality and what one envisions. My friend burned one side of the shoes that her man was wearing. She didn't want him to return to his wife. Gradually, these women start to lose normalcy."
Hiromi Ikeuchi, a consultant specializing in family matters, provides two other graphic examples of how things can spin out of control. "A middle-aged woman was told by a man she was seeing, a professor, that their relationship was over," the consultant says. "So she stormed into his class and took over the podium and 'lectured' the students on their relationship. Another woman went to her man's office to post photo evidence of their affair in the hallway."
Of course, Shukan Post reassures, not all affairs develop such problems. The key is choosing the right woman.
Sakuragi believes that one can detect the character of a woman through text messaging. "Women who engage in affairs are emotionally dependent as they know its a bad thing but they cannot help it," she says. "They are always thinking about others, thus they are quick with responses. Try sending them messages during the day or also in the evening. If all the replies are within 5 minutes, it's a yellow card."
Psychologist Toshiki Nishizawa points to a lack of female friends as foreshadowing for trouble. "Those with fewer same-sex friends lack communication skills," he says. "Once they taste a love affair, they tend to quench their thirst for human relationships through these affairs. Then when issues arise with her partner she tends to lose her direction because she has no one to talk to."
Sakuragi warns against gals who turn down presents and give the feeling that she is a heroine in a tragedy. "You need to be wary of girls who say, 'I am not in a position to receive gifts. Instead, please love me more.'"
Writer Mari Abe, a specialist in divorce consultation, says that declaring upfront that the relationship is simply for sex is the best policy. "It will only trigger negative consequences if a man provides his credit card and a car," she says. "If you are not ready to have her for your entire life, don't do it. You should instead emphasize that she is the best sex-friend. Once establishing a physical relationship, put your focus on making sure this mistress doesn't want to become your wife."
Yet what does one do should trouble arise? Tell your wife everything. "She will eventually find out," Abe assures. "It is better when you confess. That way, if the mistress storms into your house, you can turn her away. After that, get an attorney. Having a third party helps."
When Shukan Post visited Nishizawa, he was with his wife and simply said: "I have nothing to say."
Indeed, concludes the tabloid, confronting his wife and two daughters may be the case that takes the longest to solve. (K.N.)
Source: "Keishichi Sousa Ikka kachin wa zendai mimon no koutetsu! 'Monsutaa ka shinai furin onna' no erabikata," Shukan Post (Apr. 2, pages 38-40)
Note: Brief extracts from Japanese vernacular media in the public domain that appear here were translated and summarized under the principle of "fair use." Every effort has been made to ensure accuracy of the translations. However, we are not responsible for the veracity of their contents. The activities of individuals described herein should not be construed as "typical" behavior of Japanese people nor reflect the intention to portray the country in a negative manner. Our sole aim is to provide examples of various types of reading matter enjoyed by Japanese.