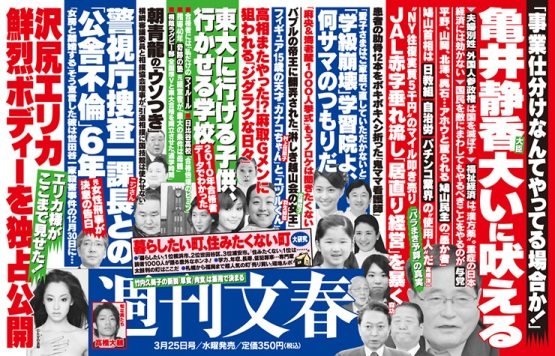 "I used to work in the office of a parcel delivery company, where there was this young, macho hunk," writes the anonymous contributor to the February issue of Amour Urajijo, as introduced in the weekly magazine Shukan Bunshun (Mar. 25).
"One night the two of us were working overtime, and after we finished, he brought over a couple of beers and said, 'Nobody's here, so let's have a drink.'
I got a little tipsy and before I knew it we were horizontal in the cab of a truck having sex. And that's when I found out that he really got turned when he could make his partner talk dirty during sex.
"I thought to myself how lucky I was for the chance to do it with such a gorgeous specimen of manhood, so while we did the deed I let loose with cries like, 'Ahhh, I don't want to stop,' followed by 'Mmmm, chinko oishii' (Your cock is delicious) and 'Ohhhh, f**k! F**k!'
"The feeling of humiliation made me even more excited, leaving the truck's seat sopping with big wet spot.
"But after that, our relationship went nowhere, and feeling uncomfortable around him I quit my job. That was five years ago. But even now, I love to recall those magic moments while I finger myself, doing solitary ecchi."
Bunshun's byline involves a musical pun from "Nagori Yuki," a 1970s folk rock tune popularized by female vocalist Iruka, whose penultimate line goes, "Ima haru ga kite, kimi wa, kirei ni natta" (Now spring has come and you've become pretty). The lyrics are tweaked to read "kirei ni onatta." Onatta is a made-up verb derived from onani (onanism, i.e., masturbation), thereby changing the meaning to "Now spring has come, and you were masturbating beautifully."
Source: "Shukujo no zasshi kara," Shukan Bunshu (Mar. 25, page 109)
Note: Brief extracts from Japanese vernacular media in the public domain that appear here were translated and summarized under the principle of "fair use." Every effort has been made to ensure accuracy of the translations. However, we are not responsible for the veracity of their contents. The activities of individuals described herein should not be construed as "typical" behavior of Japanese people nor reflect the intention to portray the country in a negative manner. Our sole aim is to provide examples of various types of reading matter enjoyed by Japanese.