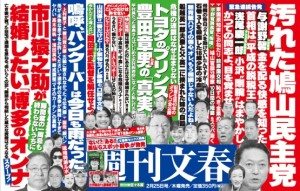 "My neighbor's eldest son is a ronin ("masterless samurai" but in modern usage a student who had failed the university entrance exams) who seldom leaves the house, except to attend classes at a preparatory school," writes the anonymous contributor to the February issue of Ai no Taiken Special Deluxe, as introduced in Shukan Bunshun (Feb. 25).
"Being a housewife myself I'm home most of the time, so I couldn't help taking notice of him. One day while cleaning the bedroom window I happened to look into his room next door, and caught a glimpse of him masturbating.
"His 'pole of meat' was a wondrous thing to behold, and from then every now and again I would try to catch another peep.
"While watching him wanking away one day the telephone suddenly rang, but when I picked it up, the caller did not speak. I was thinking to myself, 'Darn, I missed the best part of watching him cum.'
"Just then, the bell rang and opening the door, he was standing right there! 'What have you been watching?' he asked me in an accusatory tone, stepping into my foyer.
"I invited him in, and soon afterwards wound up taking in his 'thing' as well!"
For the byline, Bunshun's writer coins an outrageous bilingual pun. Prayers to pass an examination are called 合格祈願 (gokaku kigan). The reading of the second character has been tweaked from "kaku" to "fuakku" — spelling out the f-word in its entirety in English — and thereby changing the words to mean, "prayer for f**king together." (M.S.)
Source: "Shukujo no zasshi kara," Shukan Bunshun (Feb. 25, page 105)
Note: Brief extracts from Japanese vernacular media in the public domain that appear here were translated and summarized under the principle of "fair use." Every effort has been made to ensure accuracy of the translations. However, we are not responsible for the veracity of their contents. The activities of individuals described herein should not be construed as "typical" behavior of Japanese people nor reflect the intention to portray the country in a negative manner. Our sole aim is to provide examples of various types of reading matter enjoyed by Japanese.