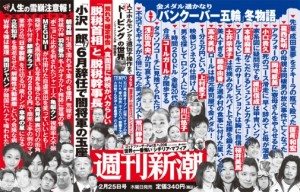 Usually entry to a high-end Ginza hostess club requires an initial outlay of tens of thousands of yen. Yet the wave of deflation is causing one new establishment to charge a mere 12,800 yen for an hour of all-you-can-drink and — get this — food and lodging.
Shukan Shincho (Feb. 25) reports on the latest project by mama-san Shiho Masui, 41, who has appeared in the media numerous times since 1995, when she opened the hostess club Futago-ya (Club Twins) in Ginza's 6-chome district. This separate pricing venture began on the first of the month.
"I wanted more and more customers to enjoy the tradition of Futago-ya," says Masui, whose twin sister operated a club in Ginza that closed two years ago. She adds that whiskey, brandy, shochu and wine "can be enjoyed on an all-you-can-drink basis for an hour while viewing the show put on by our hostesses."
The rate for single rooms depends on the day of the week (and includes weekdays only), but reaches a maximum of a mere 12,800 yen and includes a room at the Ginza Capital Hotel and a choice of sushi or pasta for dinner.
Masui is often asked by customers how she can offer such a deal. She responds in the article by emphasizing the recession-manageable pricing at the Futago-ya club, whose entry rises from 5,000 yen to 10,000 yen over the course of each evening. Further, since she is the owner, she doesn't have to employ a separate mama-san to manage the hotel guests. She claims that Futago-ya has racked up sales totaling 300 million yen over last two years.
Shukan Shincho views this separate offer as an aggressive move in an area where the economic downtown is very apparent.
"In the late afternoon, I checked in at the Ginza Capital Hotel and received two vouchers, one for dinner and the other for club Futago-ya," says one male customer, who selected the pasta dish. "The room is bit small, but it is typical of a business hotel.
"The pasta came with tuna, squid, anago (eel), shrimp, red snapper, egg and tekkamaki (tuna rolls). It's usually 1,500 yen for this alone. So I was pretty satisfied."
The guest adds that the hotel may use the Ginza tag but its address is actually for nearby Tsukiji, known for its large fish market.
"When I arrived at the bar [in Ginza], I was shocked because the girls were all in mini-skirts and dancing to loud music," says the same customer. "For those expecting a quiet evening in Ginza, it may be a disappointment, but it may be a good chance for you to have some fun with your friends."
So far, five people have used the package. Another 30 people have reserved spaces through March.
Shukan Shincho wonders if other clubs in the area are getting restless.
"Even though it is called a club, it is in a different category," says a person related to the Ginza club scene. "Uniqlo has become well-known for its store in Ginza. It now seems like we have night version of Uniqlo." (K.N.)
Source: "Hoteru tsuki Ginza kurabu '12,800 yen' de shobaijozuno reino mama," Shukan Shincho (Feb. 25)
Note: Brief extracts from Japanese vernacular media in the public domain that appear here were translated and summarized under the principle of "fair use." Every effort has been made to ensure accuracy of the translations. However, we are not responsible for the veracity of their contents. The activities of individuals described herein should not be construed as "typical" behavior of Japanese people nor reflect the intention to portray the country in a negative manner. Our sole aim is to provide examples of various types of reading matter enjoyed by Japanese.