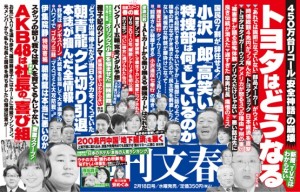 The February issue of Ai no Taiken Special Deluxe features a collection of "Fifty Readers' Confidential Confessions of Ecstatic Experiences," from which Shukan Bunshun (Feb. 18) extracted this gem.
"It was around 10 p.m., and I was on my way home from a date with my boyfriend. As we passed near the corner of a public park, we heard a woman's voice exclaim, 'Help me!' and we immediately rushed in to render assistance.
"'Hey! What're you doing?' my boyfriend shouted at the male attacker, who immediately dashed off. His intended victim told us she didn't want to report her assailant to the police, so we helped her flag down a taxi and sent her home.
"Anyway there we were in the park by ourselves, still feeling the tension from this unexpected incident. And while it was dreadful to see that poor, terrified woman, on the other hand the excitement definitely piqued our erogenous zones, so to speak. So on an impulse, we acted out the roles of a fleeing female and male molester. Forcing my face against the park grass, my boyfriend had his way with me.
"And ever since then, we've become enthusiastic fans of outdoor sex!"
The writer's byline is given as "Kincho to Kanwa" (緊張と緩和), originally meaning tightening and relaxing, but here with the kanwa changed to read 姦和, which conveys the meaning of "illicit sex together." (M.S.)
Source: "Shukujo no zasshi kara," Shukan Bunshun (Feb. 18, page 103)
Note: Brief extracts from Japanese vernacular media in the public domain that appear here were translated and summarized under the principle of "fair use." Every effort has been made to ensure accuracy of the translations. However, we are not responsible for the veracity of their contents. The activities of individuals described herein should not be construed as "typical" behavior of Japanese people nor reflect the intention to portray the country in a negative manner. Our sole aim is to provide examples of various types of reading matter enjoyed by Japanese.