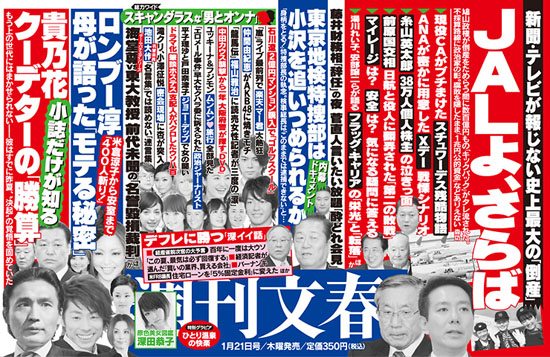 "Right after I married my husband he got posted to a two-year assignment to Europe, and I accompanied him," the anonymous female narrator relates in the December issue of the women's soft porn magazine Ai no Taiken Special Deluxe, as reported in Shukan Bunshun (Jan. 21).
"At first I was thrilled to be able to live abroad, but it was hard to acclimatize to an unfamiliar country and before long I was in the dumps with a bad case of culture shock.
"I poured out my woes to the wife of my husband's boss, who had already been living there for three years. She told me, 'Let me introduce you to a few friends of mine.' She escorted me to a room in a gorgeous condo where three local men were waiting for us.
"Without hesitating, she walked up to one of them and embraced him in a deep kiss. I found myself sandwiched between the other two. At first I was frightened, but I was soon enjoying their passionate yet gentle caresses. Soon one pushed me down on my hands and knees and penetrated me from behind. The sensation was indescribable.
"As one body rolled atop the next, all my anxieties about living abroad were dispelled."
This week's pseudonymous byline is "Sekai no kunni kara konnichi wa" (Hello from the world's countries). Composed by Yoko Shimada and sung by the late Kyu Sakamoto, among others, it was the theme song adopted for the 1970 Osaka World Exposition. Here, Bunshun's brilliant punster has brandished kuni (countries) with an extra "n" to create kunni, which means "cunilingus."
Source: "Shukujo no zasshi kara," Shukan Bunshun (Jan. 21, page 115)
Note: Brief extracts from Japanese vernacular media in the public domain that appear here were translated and summarized under the principle of "fair use." Every effort has been made to ensure accuracy of the translations. However, we are not responsible for the veracity of their contents. The activities of individuals described herein should not be construed as "typical" behavior of Japanese people nor reflect the intention to portray the country in a negative manner. Our sole aim is to provide examples of various types of reading matter enjoyed by Japanese.