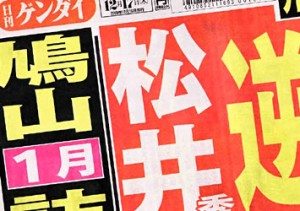 A staff member of Fukushima Prison has been taken into custody for engaging in obscene acts. Nikkan Gendai (Dec. 17) reports that Tomio Hirai, age 60, was arrested on suspicion of forcing a male convict to perform oral sex on him the previous October 18.
On December 14, Hirai was charged with violation of the special law applied to breach of duty by public officials, which prescribes penalties of up to seven years imprisonment.
Hirai would have reached the age of retirement next March. If the court finds him guilty as charged, it is expected he will undergo dismissal, which would also result in revocation of his pension.
The current prisoner population of Fukushima Prison is 1,204, with 224 guards, a ratio of one per every 5.3 prisoners. According to unattributed sources, the sex takes place between guards and prisoners inside solitary confinement cells.
"It's not possible for guards to get away with it in multiple occupancy cells or in corridors, which are monitored by security cameras," says a journalist familiar with Fukushima Prison. "There are lots of cases where homosexual guards force themselves on prisoners in solitary. In exchange for oral sex or sodomy they'll let the prisoners have access to telephones or smuggle out letters for them."
"A lot of sex goes on in prisons," he adds. "I heard about one case where in a cell with six occupants, five of the prisoners shared the sixth on successive nights, sodomizing him in turns."
Perhaps, speculates Nikkan Gendai, former actor and singer Manabu Oshio, who was arrested Monday on suspicion of administering MDMA to a woman found dead at a Tokyo apartment last August, will soon be receiving his "baptism of fire." Astute readers will not miss the irony that Oshio's surname is written with kanji meaning "push tail." (K.S.)

Source: "Keimusho no homo koi no ozomashii jittai," Nikkan Gendai (Dec. 17, page 7)
Note: Brief extracts from Japanese vernacular media in the public domain that appear here were translated and summarized under the principle of "fair use." Every effort has been made to ensure accuracy of the translations. However, we are not responsible for the veracity of their contents. The activities of individuals described herein should not be construed as "typical" behavior of Japanese people nor reflect the intention to portray the country in a negative manner. Our sole aim is to provide examples of various types of reading matter enjoyed by Japanese.