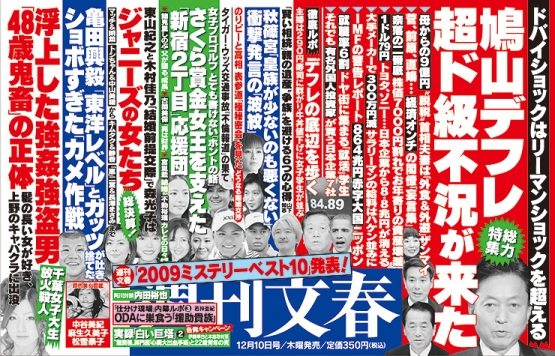 "I have no idea why, but after my first daughter was born, it became extremely easy for me to achieve orgasm," writes the anonymous female contributor to the October issue of Amour Urajijo, as introduced in Shukan Bunshun (Dec. 10).
What this meant was even with a slight fingering she didn't just become damp, but began spouting like Old Faithful.
"'Wow! You're like a different woman,' was how my husband put it."
The problem was that the couple's coital interludes became so messy the bedding got drenched, and airing the family futon outside on the veranda left it embarrassingly open to the prying eyes of the nearby neighbors.
"My hubby's mother, who lives with us, would see the wet spots on the futon and tease me, asking, 'What happened, were you incontinent? I guess giving birth leaves some women slack down there…'
"I wish I could go to a hotel, where I could do it to my heart's content and not worry about having to clean up!" she exclaims.
Bunshun's painfully punful byline this time is taken from "Konnichi wa akachan" (Little Treasure from Japan), title of a popular song performed in 1963 by Michiyo Azusa. Instead of konnichi wa (hello) it is written with the "chiwa" portion rendered 痴話, meaning a "lurid tale."
Source: "Shukujo no zasshi kara," Shukan Bunshun (Dec. 10 page 103)
Note: Brief extracts from Japanese vernacular media in the public domain that appear here were translated and summarized under the principle of "fair use." Every effort has been made to ensure accuracy of the translations. However, we are not responsible for the veracity of their contents. The activities of individuals described herein should not be construed as "typical" behavior of Japanese people nor reflect the intention to portray the country in a negative manner. Our sole aim is to provide examples of various types of reading matter enjoyed by Japanese.