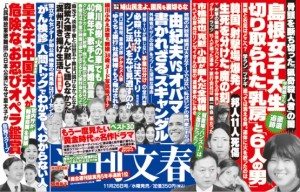 Talk about getting turned on by a trip to the dentist.
"As soon as my treatment was over in the dentist's chair, I would run into the toilet, and find myself sopping wet down there. I couldn't help myself. I'd stay there in the stall and masturbate until I heard the receptionist calling me back to pay the charge."
So begins the account of dental patient's titillating treatment in the December issue of Ai no Taiken Special Deluxe, as introduced in Shukan Bunshun (Nov. 26).
At last, this randy lady happened to be the doctor's final patient of the day, and "Sensei" told her upon finishing up that he would accompany her to the station.
"But on the way, suddenly he took me by the hand and pulled me down an alley," she writes. "There was a small love hotel.
"I think both of us were thinking along the same lines, so going in felt natural. Sensei could read me like a book.
"In the room I stripped to the buff and he started peering inside my vagina, saying to me, 'While I was treating you, you felt horny didn't you? I could tell, you know — it showed on your face.'
"At the end, I took him in my mouth and sucked him completely dry. From that day, I haven't needed to masturbate any more, since I'm getting plenty of love from Sensei. Each time I visit his clinic I look forward to tender post-operative care," she winks.
Shukan Bunshun's playful punster comes up with another masterpiece for the writer's nom de plume: Shika eiseishi. The actual meaning is "dental hygienist," but here it is written with the last two kanji substituted to 精子, changing its meaning to "dental sperm protection." (M.S.)
Source: "Shukujo no zasshi kara," Shukan Bunshun (Nov. 26 page 101)
Note: Brief extracts from Japanese vernacular media in the public domain that appear here were translated and summarized under the principle of "fair use." Every effort has been made to ensure accuracy of the translations. However, we are not responsible for the veracity of their contents. The activities of individuals described herein should not be construed as "typical" behavior of Japanese people nor reflect the intention to portray the country in a negative manner. Our sole aim is to provide examples of various types of reading matter enjoyed by Japanese.