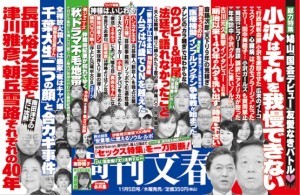 "I was still in my late teens and assigned to a rural sales office in the middle of nowhere," writes the anonymous contributor in the November issue of women's soft porn magazine Amour Urajoho, as introduced in Shukan Bunshun (Nov. 5).
"When noon came I would tell my colleagues, 'Well I'm heading for lunch.' But actually I made a beeline for my boyfriend's apartment nearby. There wasn't much time, so the second I was in the door I'd strip and we'd start balling away.
"After 'lunching' on my boyfriend's member, I'd stagger back to work for the rest of the afternoon…Sitting at the desk my mind often wandered back to his bed performance.
"Anyway, as soon as I got off work I'd go back to his place for another jamming session. By next morning, feeling exhausted and emaciated, I'd drag myself back to the office, but by noon I'd was raring to hop back in his sack.
"These days I'd put priority on food over any guy, no matter how sexy he is. But if there were a way to turn back the clock to those wild times, I'd do it. Being young and horny makes you tough as nails."
Once again the magazine comes up with a hilarious byline for the anonymous contributor, who it names "Ranchi Time." Ranchi of course is how Japanese spell "lunch" — but it is written with the characters 乱痴, a nuanced meaning remarkably close to the English word "raunchy." (M.S.)
Source: "Shukujo no zasshi kara," Shukan Bunshun (Nov. 5, page 105)
Note: Brief extracts from Japanese vernacular media in the public domain that appear here were translated and summarized under the principle of "fair use." Every effort has been made to ensure accuracy of the translations. However, we are not responsible for the veracity of their contents. The activities of individuals described herein should not be construed as "typical" behavior of Japanese people nor reflect the intention to portray the country in a negative manner. Our sole aim is to provide examples of various types of reading matter enjoyed by Japanese.