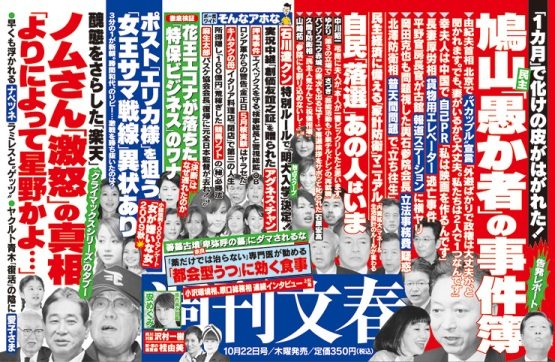 Women's soft porn mag Ai no Taiken Special Deluxe doesn't mince words. It has crammed 50 — count 'em, 50 — first-hand accounts of its readers' lurid escapades into its October issue, and Shukan Bunshun (Oct. 22) has selected what may be the spiciest of the lot.
It's composed by a woman who admits that her husband loves her dearly. While they were dating before marriage that was great; but after they wed she found his feelings of affection increasingly constrictive.
"The more he loved me, the more I felt like cheating on him," she confesses. So she did. Her paramour was young "K.," her husband's subordinate at the same company. One night, hubby — who had little capacity for alcohol — drank himself into a stupor, and it was K. who gallantly delivered him to the front door.
When she saw K. kindly assisting her inebriated mate, it was lust at first sight.
"Not long afterward, K. was headed back to the office from a business call and just happened to drop by the house," she recalls. "I saw he had already started to remove articles of clothing in the entrance, and I responded by yanking off my apron and directing him straight to the bedroom.
"I pushed him onto the bed and began gobbling at his groin. He was erect in no time, and my mouth tingled from his masculine musk. Then I straddled his face and he began tonguing me so hard my clitoris went numb. And as he plunged inside me, I let loose with sounds that words can't describe.
"I don't think I'm going to be able to put an end to this relationship," she sighs. (M.S.)
Source: "Shukujo no zasshi kara," Shukan Bunshun (Oct. 22, page 105)
Note: Brief extracts from Japanese vernacular media in the public domain that appear here were translated and summarized under the principle of "fair use." Every effort has been made to ensure accuracy of the translations. However, we are not responsible for the veracity of their contents. The activities of individuals described herein should not be construed as "typical" behavior of Japanese people nor reflect the intention to portray the country in a negative manner. Our sole aim is to provide examples of various types of reading matter enjoyed by Japanese.