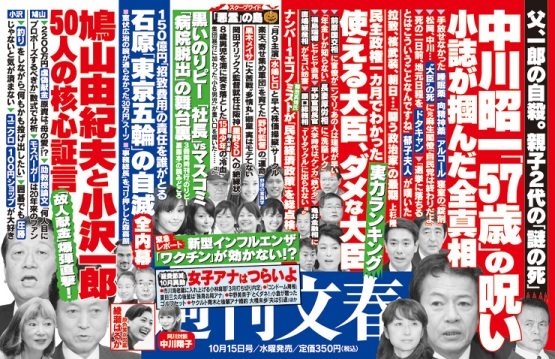 "When I was a student, a splendid male upper classman and younger female schoolmate and I went into a love hotel together," a female contributor relates in the October issue of the women's erotic fantasy magazine Amour, as reported in Shukan Bunshun (Oct. 15).
"Under ordinary circumstances you'd expect all three of us would have wound up in bed, but for reasons I'm not fully sure, I just stood by and watched while my senpai and kohai did the dirty with each other.
"They were brimming with youthful energy, and were really incredible — they just kept going and going, with her panting, shuddering through one orgasm after the next, and bursting out with exclamations like 'Ohhh, it feels so gooooood!'
"I was thinking to myself, 'It would be so nice if they were to invite me,' but they just left me alone, sopping wet down there and feeling sorry for myself."
"That night I went home and relieved myself manually, but it was a weird experience. I guess those two like to get it off by doing it while somebody watches them."
The writer's pseudonymous byline is given as "Nakamarazure," a fiendishly clever rendering of the word nakama-hazure, which means, "to be left out in the cold." By punning it to naka mara zure it means, "to be excluded from getting a penis inside."
Source: "Shukujo no zasshi kara," Shukan Bunshun (Oct. 15, page 103)
Note: Brief extracts from Japanese vernacular media in the public domain that appear here were translated and summarized under the principle of "fair use." Every effort has been made to ensure accuracy of the translations. However, we are not responsible for the veracity of their contents. The activities of individuals described herein should not be construed as "typical" behavior of Japanese people nor reflect the intention to portray the country in a negative manner. Our sole aim is to provide examples of various types of reading matter enjoyed by Japanese.