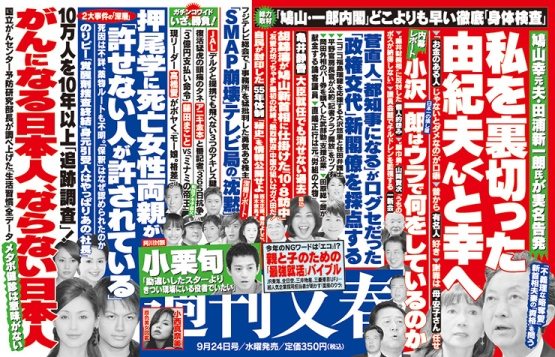 "It's been half a year since I began having an extramarital affair with 'J,' a salesman I'd met at the company where I work part time," writes the anonymous contributor to the October issue of women's soft porn monthly Ai no Taiken Special Deluxe, as introduced in the weekly "From the ladies' magazines" column in Shukan Bunshun (Sep. 24).
"I exercised extreme caution to keep my husband from finding out about our affair, but one day I opened my mailbox to find an ominous letter.
"'Is your boyfriend's cock bigger than your husband's?' it asked. 'Betcha mine is even bigger.' And so on. I was really scared. Then not long afterward another letter arrived that read, 'If you want to know who I am, open your door right now.' Unable to control my curiosity I did, and standing outside was the university student living in the apartment next door.
"Without speaking a word he let himself inside and closing the door behind him yanked up my skirt. He seemed to know just how I would react, and I realized resistance would be futile.
"As his letter claimed, it turned out he was indeed splendidly hung — bigger in that department than both my husband and my lover. And certainly big enough to make me cum."
The contributor's byline is rendered tongue-in-cheek as Kabe ni mimi ari, joji ni me ari, which translates as "The walls have ears and love affairs have eyes." (M.S.)
Source: "Shukujo no zasshi kara," Shukan Bunshun (Sep. 24, page 107)
Note: Brief extracts from Japanese vernacular media in the public domain that appear here were translated and summarized under the principle of "fair use." Every effort has been made to ensure accuracy of the translations. However, we are not responsible for the veracity of their contents. The activities of individuals described herein should not be construed as "typical" behavior of Japanese people nor reflect the intention to portray the country in a negative manner. Our sole aim is to provide examples of various types of reading matter enjoyed by Japanese.