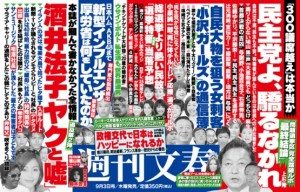 "We're a couple that loves motoring so much, almost all of our dates involve going on drives," writes the anonymous contributor to the August edition of the woman's porn fantasy magazine Renai Tengoku, as featured in Shukan Bunshun (Sep. 3). So naturally, she adds, she and her beau just love getting it on inside the car.
Their latest adventure took place when the couple happened to be driving past a huge parking lot that was completely empty. They pulled in and jumped in the back seat.
"We'd begun having sex when a car pulled up right next to us," she writes. "And what's more, we could hear their grunts and moans emanating from the window!"
"Not to be outdone, my boyfriend opened all the car windows, and then we went at even more furiously than usual. I really got turned on. We changed positions and then I took the initiative and had my way with him, thrusting my hips furiously. We were both bellowing out loud as we came simultaneously.
"We were completely exhausted. After a few moments to catch our breath, he said to me, 'Yuki, I never could have imagined you becoming uncontrollably wild on top of me like that.' It made me happy to see the satisfied grin on his face."
No further mention is made of the mysterious couple in the other car. (M.S.)
Source: "Shukujo no zasshi kara," Shukan Bunshun (Sep. 3, page 107)
Note: Brief extracts from Japanese vernacular media in the public domain that appear here were translated and summarized under the principle of "fair use." Every effort has been made to ensure accuracy of the translations. However, we are not responsible for the veracity of their contents. The activities of individuals described herein should not be construed as "typical" behavior of Japanese people nor reflect the intention to portray the country in a negative manner. Our sole aim is to provide examples of various types of reading matter enjoyed by Japanese.