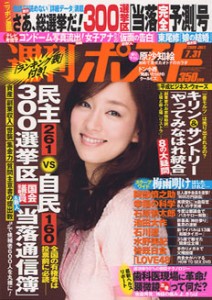 This year "carnivorous" women are poring over books about enjoying sex. Shukan Post (July 31) reports such titles written by former top AV actress Honoka (age 26), as "Koakuma Sekkusu" ("Little Devil Sex," published by Best Shinsho) and "Karada no Kairakuai no Katachi" ("The Shape of Corporeal Love Pleasure," by Fusosha) are being snatched up in impressive numbers.
"The old view of sex leaned toward how men could pleasure women," says Honoka on her blog. "But originally sex was meant for males and females to enjoy each other together. My book explains how women can take the initiative, but the result will be that the two parties share mutual feelings."
Harnessing the market carved out by her books, Honoka has released a new DVD titled "Love 48," which is already reported to have sold 10,000 copies.
The "48" in the title derives from the famous shijuuhatte (48 hands or coupling positions) made famous in old erotic woodblock prints. Rather than convoluted anatomical postures, however, the DVD introduces variations on "tonguing techniques," "fingering techniques," "penetration methods" and so on in ways to demonstrate mutual affection.
The DVD is meant to be instructive and for that reason, unfortunately, does not display genitalia. For instance, to demonstrate a "lip-sliding technique," a model of an erect male "organ" constructed of clear acrylic plastic is utilized, and sensei Honoka initiates the action with an affectionate smooch at the tip, after which she licks it down the shaft and then takes it into her mouth.
"Men tend overemphasize foreplay, like tongue and fingering techniques, or extending the duration of the act," she says. "What is more important is for both to observe their partner's responses and reduce the distance between them."
Source: "LOVE 48: Nikushoku onnna-tachi ga hamatteiru 'How to Sex' DVD," Shukan Post (July 31, page 131)
Note: Brief extracts from Japanese vernacular media in the public domain that appear here were translated and summarized under the principle of "fair use." Every effort has been made to ensure accuracy of the translations. However, we are not responsible for the veracity of their contents. The activities of individuals described herein should not be construed as "typical" behavior of Japanese people nor reflect the intention to portray the country in a negative manner. Our sole aim is to provide examples of various types of reading matter enjoyed by Japanese.