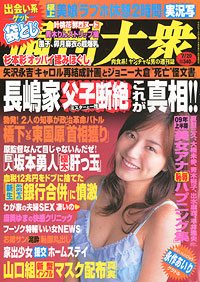 And I wonder–
I wah-wah-wah-wah-wonder,
Why,
Why, why, why, why, why she ran away,
Yes, and I wonder,
A-where she will stay-ay,
My little runaway,
Run, run, run, run, runaway.
Now we know the answer to Del Shannon's ditty, at least in Japan in the summer of 2009. She'll stay in the home of an older man, and probably have sex with him.
"Guys in their 30s are the best, I guess," says Mao, a 16-year-old with hair dyed red. "They live in nice places, and they go out to work in the daytime."
"But do you let them, uh, you know, have etchi with you?" asks Shukan Taishu (July 20).
"Well I can't expect them to put me up for free," she shrugs.
Mao, whose parents divorced 14 years ago, says she ran away because she couldn't stand her mom's persistent nagging.
"I'd dropped out of high school, and if I stayed around the house, she'd say to me, 'Go out and find a job.' I couldn't take it any more."
Mao's current "enko home stay" arrangement is her fifth.
Girls on the lam from their families who come to the big city typically seek lodgings through underground electronic bulletin boards on the web. A sample message might read, "Looking for a savior. I'm really hard up. Let me stay over tonight. Sex OK."
From several years ago, female runaways began to exceed males. According to data from the Tokyo Metropolitan Police for 2007, of 799 minors detained, 422 were girls — many of whom may be easy prey for men with a fetish for Lolitas.
Electronic bulletin boards accessed by cell phones are providing a handy interface to link up the girls with prospective Johns.
On June 24, three adult males in Nagoya were arrested for having illicit sex with two female middle school students.
A week earlier, a 49-year-old employee of the Ministry of Agriculture, Forestry and Fisheries was arrested on suspicion of offering a 16-year-old runaway girl 5,000 yen for sex.
Nao, age 17, relates how she fled home last summer following a spat with her father. She told her mother that she would be staying at the home of a friend, but actually began hunting for a male patron. One responded to her post.
"He told me he lived in a manshon, but actually it was just a small apartment," she recalls. "It had its own bath and toilet but the room was only six mats."
To show her appreciation for a place to stay, she prepared yakisoba noodles.
"When it was time to sleep, he said, 'Come over here,' and beckoned me to join him in bed. I refused and he didn't force me, but the next morning, when I woke up, that old guy was trying to stick his thing in my mouth…
"I'd rather not talk about what happened afterward," she frowns. (K.S.)
Source: "Iede shojo ga mure wo nasu 'enko homu sutei' kyogaku jittai," Shukan Taishu (July 20, page 194)
Note: Brief extracts from Japanese vernacular media in the public domain that appear here were translated and summarized under the principle of "fair use." Every effort has been made to ensure accuracy of the translations. However, we are not responsible for the veracity of their contents. The activities of individuals described herein should not be construed as "typical" behavior of Japanese people nor reflect the intention to portray the country in a negative manner. Our sole aim is to provide examples of various types of reading matter enjoyed by Japanese.