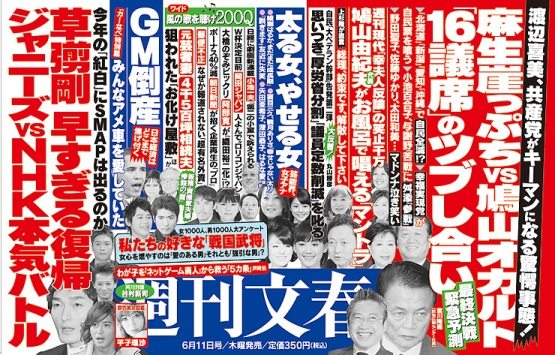 She's 46, married, and with kids. He's 34 and still single. They first made each other's acquaintance 11 years ago while working in the same office.
"But despite this disparity in our ages, his attitude and behavior toward me is no different from the way he'd normally treat a younger gal."
So says the contributor using the nom de plume "Kurisuu! Toshi no sa nante," which translates as "Suck my clitoris! So what if there's a difference in our ages."
The "Amour ura joho" column in the June issue of Amour magazine (as reported in the June 11 issue of Shukan Bunshun) relates a few lurid details of this estrogen-enhanced gal's extramarital escapade.
"For the last two months, he's been poking me via the rear portal, and we've both become obsessed with anal sex," she writes. "It's so good to romp with a young fellow. I just can't get enough of him.
"But I'll be turning 47 soon. And who knows, maybe before much longer we'll finally call it quits. But doing 'H' with him has been fantastic. Up to now, I've thought about breaking up any number of times, but just can't bring myself to do it."
Source: "Shukujo no Zasshi kara," Shukan Bunshun (June 11, page 101)

Note: Brief extracts from Japanese vernacular media in the public domain that appear here were translated and summarized under the principle of "fair use." Every effort has been made to ensure accuracy of the translations. However, we are not responsible for the veracity of their contents. The activities of individuals described herein should not be construed as "typical" behavior of Japanese people nor reflect the intention to portray the country in a negative manner. Our sole aim is to provide examples of various types of reading matter enjoyed by Japanese.