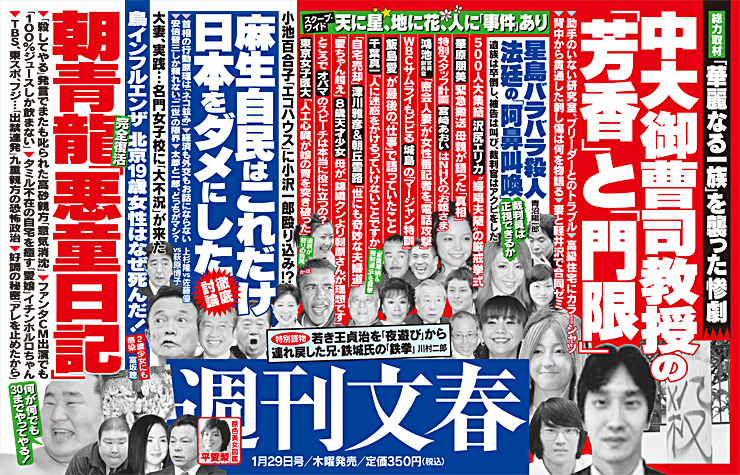 Takeshobo's June issue of Ai no Taiken Special Deluxe is out, and, as Shukan Bunshun (June 4) demonstrates in its regular weekly page, this lurid ladies' magazine is chock-full of fanciful fabrications from feisty females.
Here's a short item from the pseudonymous contributor who goes by the handle "Yabamotesen chichi mawari." This wonderfully creative nom de plume is a play on the words "Yamanotesen uchi mawari," which refers to the inside (i.e. counterclockwise running) track of Tokyo's Yamanote loop line. In this tongue-in-cheek rendering, it takes on the meaning "hot for the dangerous line that goes around (my) breasts."
It seems that the contributor actually revels in being groped by males while aboard a jism-packed rush-hour train.
"I had my first experience in Tokyo while still a student," she relates. "But I was hired to work in a rural area where the trains aren't crowded, so I've become frustrated.
"Fortunately I was sent to Tokyo on a business trip, and got to ride a packed commuter train for the first time in ages," she continues. "I boarded with a sense of anticipation. I would only be in town for a week, so I didn't want to miss this opportunity!"
"That first day, though, nothing happened to me. So the next day I wore a blouse that revealed a lot of décolletage — and in no time at all, I felt fingers rubbing against and tugging at my nipples! Then as I was pushed along with the crowd, I felt a man's hand working its way into my skirt, diddling my clitoris.
"As I felt his finger working its way in and out of me, I was hard-pressed to keep from moaning out loud.
"At the next station I disembarked, went to the toilet stall and masturbated using a rotary vibrator and magic marker pen.
"Nothing beats a crowded commuter train," she attests.
Well, the word "beat" certainly seems appropriate, at least in her case.
Source: "Shukujo no zasshi kara," Shukan Bunshun (June 4, page 101)
Note: Brief extracts from Japanese vernacular media in the public domain that appear here were translated and summarized under the principle of "fair use." Every effort has been made to ensure accuracy of the translations. However, we are not responsible for the veracity of their contents. The activities of individuals described herein should not be construed as "typical" behavior of Japanese people nor reflect the intention to portray the country in a negative manner. Our sole aim is to provide examples of various types of reading matter enjoyed by Japanese.