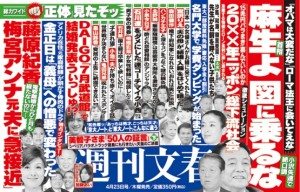 Shukan Bunshun's weekly column (Apr. 23) "From the Ladies' Magazines" features this short excerpt from the April issue of Ai no Taiken Special Deluxe published by Takeshobo.
"While aboard a jam-packed commuter train, I felt something creeping around my bottom," writes the pseudonymous female named "Ikenai Ikemen." "At first I thought it was the edge of somebody's briefcase, and I ignored it.
"But no matter which way I turned and changed my position, the creeping sensation persisted. Somebody — or some thing — was groping my butt. So I very…cautiously…turned to observe my tormentor and the groper, as it turned out, was a really good-looking college student type!
"At that moment I realized how difficult it is to tell from looking at a person's face what sort of sexual fetish he might be into.
"As I stood there, still gaping with astonishment, the young man nonchalantly disembarked from
the train and walked off, as if nothing at all had happened." (M.S.)
Source: "Shukujo no zasshi kara," Shukan Bunshun (Apr. 23, page 104)
Note: Brief extracts from Japanese vernacular media in the public domain that appear here were translated and summarized under the principle of "fair use." Every effort has been made to ensure accuracy of the translations. However, we are not responsible for the veracity of their contents. The activities of individuals described herein should not be construed as "typical" behavior of Japanese people nor reflect the intention to portray the country in a negative manner. Our sole aim is to provide examples of various types of reading matter enjoyed by Japanese.