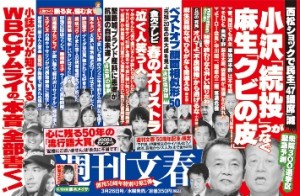 "The guy I was going with before I got married loved to get it on," the female writer confesses in "Amour Ura Joho" (inside stories about love), from the March issue of the woman's monthly comic magazine Amour.
"At the time, I felt he just saw me as another of his conquests. But now I don't do it much and I regret our splitting up.
"All I have left to remember him by is a vibrator he bought for me that time in the love hotel," she sighs wistfully.
Yes indeed, ladies' lurid tales can be real lulus, as Shukan Bunshun (Mar. 26) relates. Take this one, also from Amour (March):
"I work in the office at a cram school, and got it on with one of the students, 15 years my junior. Naturally it was his first time. The way he grunts when I suck him off is so cute. He cums quickly, but he can make it five or six times. Young guys are great!"
And this, from Amour's February issue: "My boyfriend has a fetish for dental braces. When we kiss he licks my braces and that's enough to get me wide open down there. I wonder if he'll want to leave me after I get the braces off. . . He's flaky, don't you think?"
And this: "My boyfriend suffers from premature ejaculation — he really shoots off quickly. It got to me after a while, so I cheated on him, with a guy who can hold back as long as he wants. But when we went to a love hotel he never came at all. Rubbed me red and sore down there. So I lost confidence in my tightness and realized that I'm a better match with a guy who cums right away." (Mieko Shimizu)
Source: "Shukujo no zasshi kara," Shukan Bunshun (Mar. 26, page 118)
Note: Brief extracts from Japanese vernacular media in the public domain that appear here were translated and summarized under the principle of "fair use." Every effort has been made to ensure accuracy of the translations. However, we are not responsible for the veracity of their contents. The activities of individuals described herein should not be construed as "typical" behavior of Japanese people nor reflect the intention to portray the country in a negative manner. Our sole aim is to provide examples of various types of reading matter enjoyed by Japanese.