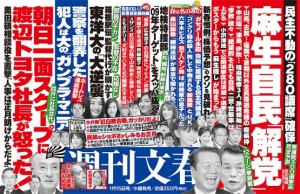 Anyone in search of flaky anecdotes about sex need look no further than the "From the ladies' magazines" page appearing every week in Shukan Bunshun.
The current issue (Jan. 15) features this excerpt from the January issue of Ai no Taiken Special Deluxe, published by Takeshobo.
"Without first phoning to tell my friend I was dropping by, I decided to pay a surprise visit," the writer relates.
"Her front door was open so I let myself in. But there was no one in the living room, or in the lavatory. As I mounted the steps, I heard strange noises emanating from an upstairs room.
"I opened the door to see what it was, and there was my friend — frisking in bed with a very young fellow. They didn't notice my arrival, and kept going at it for a while. Watching, I noticed he was not especially well equipped.
"I murmured to myself, 'His thing doesn't look like it's enough to get the job done,' and only then the two realized they were performing before an audience.
"'Oh, are you here?' my friend gasped. 'I'll be finished in a moment. Wait for me.'
"And with that she resumed the action.
"Ten minutes later, my friend, having finished, joined me.
"'He's really cute,' I said to her. 'And he's got a big one too.'
"'Hrmmmph!' she huffed angrily. 'When I looked, it was pretty small. And it wasn't able to make me come!'" (K.S.)
Source: "Jukujo no zasshi kara," Shukan Bunshun (Jan. 15, page 106)
Note: Brief extracts from Japanese vernacular media in the public domain that appear here were translated and summarized under the principle of "fair use." Every effort has been made to ensure accuracy of the translations. However, we are not responsible for the veracity of their contents. The activities of individuals described herein should not be construed as "typical" behavior of Japanese people nor reflect the intention to portray the country in a negative manner. Our sole aim is to provide examples of various types of reading matter enjoyed by Japanese.